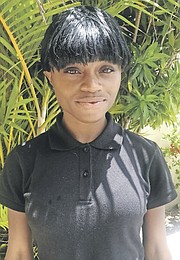 By JEFFARAH GIBSON
Tribune Features Writer
jgibson@tribunemedia.net
THE plight of abandoned children is one that often gets overlooked here in the Bahamas. Little is known about those who are given up by their parents and left to make their way through the country's system of care homes.
To shine a light on this issue, and the desire to be united with her biological parents, is why 21-year-old Carissa is eager to go public with her story.
Carissa was left at the Princess Margaret Hospital by her biological mother on March 31, 1996. She was then adopted by a couple (whose names have been omitted to protect their privacy) and they welcomed her into their humble home off Mackey Street.
Carissa spent the first years of her life – from birth to age five – with her adopted family, but was subsequently placed in the Ranfurly Home for Children due to familial issues with her adopted parents. 
While at Ranfurly, Carissa faced numerous challenges because she often acted out and became unruly. It was also an emotionally taxing experience for her, because for the second time in her short life she felt abandoned.
"It was depressing to have to move from my adopted family. She was the only mother I knew. My adopted father used to visit me while I was in the home," Carissa told Tribune Woman.
At age 13, Carissa was transferred to the Elizabeth Estates Home. 
"I used to act out a lot because of what happened to me. As a result I was punished with extra chores while I was at the Ranfurly Home. Then my problems and behaviour got so bad I was transferred to the Elizabeth Estates Home," she said. 
Having been displaced and moved from home to home made it difficult for Carissa to keep up with her studies and she struggled to progress in school.
She attended Palmdale Primary and L W Young Junior High, but was unable to complete high school at Doris Johnson.
"I finished school when I was 19 years old, but I wasn't able to graduate because I was constantly moving and my books and things got thrown away and lost. So it was hard for me. When I turned 19 the home could not keep me anymore because I was of age, so I was in search of a place to stay and looking for help," she said.  
Carissa said he approached the Nassau chapter of Links, a safe house for women in crisis that provides counselling, food, clothes, shelter and whatever else is needed for a period of up to three months. The facility also provides housing for female college students from the Family Islands, the capital or from any local children's homes who cannot afford to sustain themselves. However, Carissa said the home could not accommodate her. 
Now, that she is once again navigating life alone, Carissa said having the love and support of a family would mean the world to her.
"I literally have no one; no family," she said.
Carissa said she feels like a big part of her life is missing because she was abandoned as a baby. She also yearns to connect with the woman who gave birth to her.
However, she has no information about biological parents. She does not even know whether they are still alive, but she hopes she will find them one day.
And if that day ever comes when she gets to meet her mother, Carissa said she would "run to her, hold and hug her".
"I would just tell her how much I love her and forgive her for putting me up for adoption. Deep down in my heart I love her and love my family even though I do not know them. I would do the same for my father. If I have younger siblings, I wouldn't want them to go through what I have been through. And that is what bugs me, too, the question if I have younger siblings out there. Having to be out here in this world and not have anyone to help you or support you is difficult."
Attempts made by Carissa to find out information about her biological family through the Department of Social Services have so far come to nothing.
"I don't have information about who they are. I went to Social Services and they told me when I turned 18 they would release information about my parents. When I reached 18 they told me it was a closed case and they cannot release any information to me. They gave me the run-around. They told me I have to go to my adopted mother. When I asked her, she said they never told her anything about who my real mother is. I tried my to find out some of this information on my own, but I don't know anyone. No one knows anything," she said. 
According to the Department of Social Services, in cases where a person is seeking to reunite with their biological parents, a letter should be submitted by the adoptee stating their wish to connect with their parents. The department then contacts the biological parent, if their information is on record, informing them that their child wishes to connect. If the biological parent wants to be contacted by the child, the department then informs the adoptee. 
After being contacted by this newspaper, a staff member at the Department of Social Services said they would do all in their power to help Carissa. 
In the meantime, Carissa said she has found comfort in her new-found Christian faith.
"I recently became a believer and it feels so good. Before that, everywhere I went there was rejection, but after I gave my life to Christ doors started opening up for me. People actually hear me out now. I couldn't even find a job and now I do," she said. 
Even if her wish to unite with her biological parents does not materialise, Carissa said her faith in God will keep her firmly grounded and filled with hope.