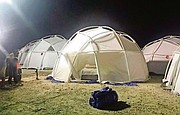 By AVA TURNQUEST
Tribune Chief Reporter
aturnquest@tribunemedia.net
EXUMA Chief Councillor Brian Strachan yesterday denied allegations that its local government office played an integral part in the staging of Fyre Festival. Instead he pointed to the Ministry of Tourism.
Mr Strachan insisted that local government officials did not approve the festival dates that clashed with the island's regatta, but ultimately rubber stamped the decision, and all others, after it was first cleared by the central government.
He said that organisers obtained all the necessary approvals, and conducted an environmental impact assessment as mandated by the Bahamas Environment Science and Technology (BEST) Commission.
"We didn't really get involved with that process at all," he said, "the only thing we did was, we try talk them out of the dates. When they (said they) feel they could make it happen, we said okay.
"We really don't approve the dates, they came to us with a proposal and plan and we looked at it. They went to the government, we told them once it's fine with government agencies, it's fine with us.
"Tourism took the charge in that," he continued, "once they satisfied the government, (Ministry of) Tourism just wanted to make sure it went smoothly. All of the meetings was held by (Ministry of) Tourism. They brought in a person from Nassau to lead meetings, they did what they had to do to make sure everything was in order," he said.
"It was a series of meetings."
Businesses and homeowners in Exuma are reportedly owed thousands of dollars in the wake of the disastrous festival that was planned for two weekends over April 28 to May 7. However, the event tanked on its first day due to inadequate facilities, which resulted in chaos and intense backlash from hundreds of stranded customers.
US organisers Billy McFarland, rapper Ja Rule and Fyre Media Inc are facing multi-million dollar lawsuits over the event with ticket packages ranging from $1,200 to over $100,000 and promises of five-star dining and luxury accommodations with headline performers including Blink-182, Migos and Major Lazer.
Mr Strachan said: "Everything was in place, the people just didn't hold up their end of the bargain, people just wasn't satisfied with their accommodations. They told them it was going to be a tent village but they were looking for high-end not just any old thing.
"Then when persons arrived it was so disorganised and they had nothing in place.
"We toured the site on opening night and the concert went on but people were too busy stumbling around trying to find food and somewhere to stay. It was the perfect site for the venue, it's just that people just weren't happy for the amount of money they spent and the accommodations."
Mr Strachan suggested that the festival would have weathered challenges better if it had been staged on another weekend. However, he estimated that even if the grounds had been fully complete - ticket holders would still be dissatisfied that the quality did not meet expectations.
On the part of authorities, he said that everything was very organised and noted that additional customs and immigration officers were flown in to accommodate the increased air traffic.
The last flight left George Town international airport at 4 o'clock Saturday morning the weekend of the festival, he said.
Mr Strachan's account echoes reports gathered by The Tribune from local residents, unpaid vendors, and former consultants, who all underscored the apparent hands-off approach taken by the government following the event's failure.
Yesterday, unpaid business owner Godfrey Gray Sr told The Tribune: "I stopped checking for the mere fact you're hearing so many different stories. It appear to me as if the person who was in charge has disconnected all of their contacts locally. Tourism brought people from Nassau to work this festival, it ain't like they don't know."
Mr Gray Sr, who is owed a balance of $70,000 for fencing work, said: "I still wonder how these people could come in this country with such a large promotion, 5,000 visitors from foreign country, and no one in government knows anything about it.
"There should be some agency, some department, who would have been informed prior. You can't stage such a massive concert with foreign investors and then nobody knows anything about it."
It follows accusations by a former project consultant, Rodney Burrows, who claimed that the government sold out the country by allowing such a poorly planned event to take root, despite clear warning signs.
Pedro Rolle, the Exuma Chamber of Commerce's president, told Tribune Business this week that Exuma's business and local government executives were urged by Ministry of Tourism officials "to work together" and ensure the ill-fated Fyre Festival's success just one month before its collapse.
The Exuma Chamber president said he made Mr McFarland aware that Fyre Festival would clash with the George Town Regatta, a time when the island's resources were already stretched thin.
Yesterday, Mr Strachan said: "We had nothing to do with this event. We made sure kept our distance because it just wasn't for us to take charge but somebody has to know. Tourism took the wheel so they got to know.
"As far as local government involvement, there was no involvement.
"Once everything was approved, we made sure they paid the fees that's it. For me, the only disappointment I have is that they left and a lot of the persons haven't been paid.
"That's a major issue but other than that for the persons that were here on the island for a day or two, they liked what they saw. A lot of them didn't want to leave, but had to because there was no place to stay."
The Ministry of Tourism has not responded to questions from The Tribune in recent days about the failed event.