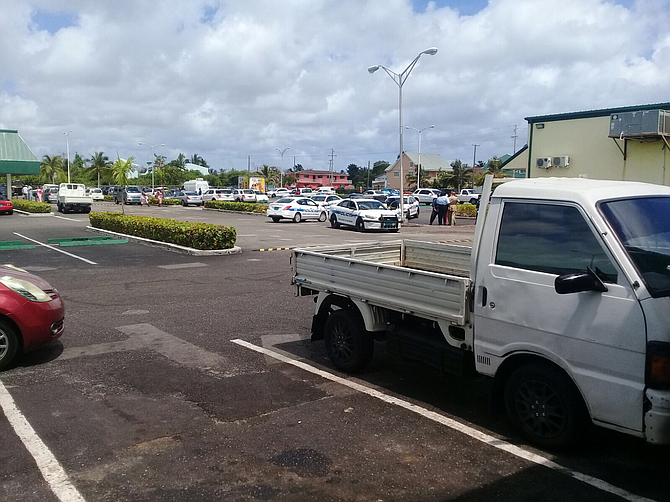 POLICE arrested one man and are looking for another suspect in connection with the armed robbery of QVS Pharmacy in the Seagrape Shopping Plaza on Tuesday.
The daytime robbery ended with police shooting a teenage suspect dead after the assailants allegedly opened fire at police.
This came after the four suspects were reported to have tied up an employee, held customers at gunpoint and robbed the pharmacy.
Assistant Commissioner of Police Clayton Fernander yesterday identified the dead teen as 15-year-old Gino Evante Finley. The Ministry of Education also confirmed that the teen was a tenth grade student from R M Bailey Senior High School.
ACP Fernander said police originally arrested two men at the time of the robbery, but one man was released when police discovered he was not involved.
"Police arrested another suspect on Thursday afternoon. He is an adult male and we are still looking for another adult male. So we have two persons in custody, one person died on the scene and one man is still on the run," ACP Fernander said.
"We released one of the men after we were satisfied he was not connected to this case."
At the scene of the crime ACP Fernander said alert officers responded to the call of a robbery in progress at the pharmacy.
Reports are that the four suspects entered the QVS Pharmacy shortly after 11am, demanded cash and other merchandise from the employees and customers, tied up at least one employee and attempted to tie up a male customer before fleeing the store on foot.
Officers in the immediate vicinity responded and once on the scene, encountered all four men, two of whom were brandishing firearms.
ACP Fernander said police gave chase, resulting in the suspects opening fire at police. Officers returned shots, fatally wounding one of the suspects. He indicated that two of the remaining three suspects were caught by officers a short time later near the crime scene.
"(Police) returned fire, eventually fatally shooting one of the individuals, who collapsed at the rear of the store," ACP Fernander said on Tuesday. "Just next to him his gun was found - a pistol was found not too far away from him. Two other culprits were later found in the vicinity and they were found in possession of some cash and also some items that you saw earlier in the parking lot, an assortment of cigarettes that they dropped as they were trying to flee from the officers."
He continued: "At this present time we are actively investigating. As you can see the coroner came and she is a part of the investigation at this time.
"There is a lot of things going around in social media to say that they are school kids. We can't say that at this time, that is a line of inquiry that we are following. The deceased appears to be a young child who should have been in school, but we are not confirming this at this present time.
"This is a line of inquiry that we are following and as we move with the investigation, we will be able to update you with respect to the investigation."
The incident marked the second police involved fatality in less than a week. A man was shot dead by police after a car chase and shoot-out on Saturday afternoon in Pride Estates.
He has been identified as 23-year-old Akeen Thompson of East Street.
Both matters are currently being investigated by Coroner Jeanine Weech Gomez.