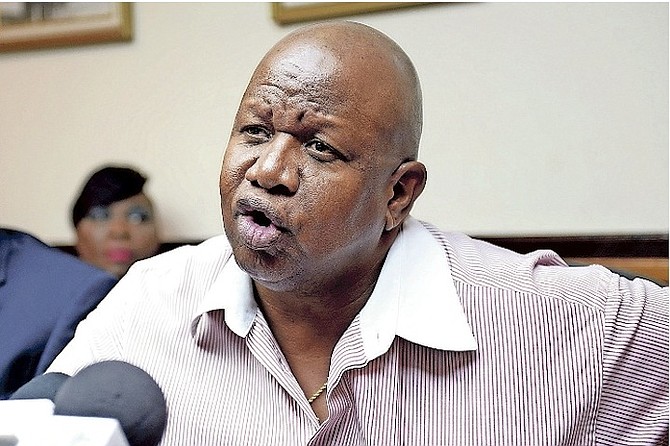 By SANCHESKA DORSETT
Tribune Staff Reporter
Sdorsett@tribunemedia.net
BAHAMAS Power and Light (BPL) is at a "critical stage" and if the company does not get new equipment immediately, the summer will be plagued with power outages, according to President of the Bahamas Electrical Workers Union (BEWU) Paul Maynard.
Mr Maynard told The Tribune on Friday the "engines are shot" and even with the added power from the rental engines, it will not be enough to stop the outages. However, he said BEC workers are professional and will do all they can to ensure the outages are not long.
Mr Maynard's comments came a day after a night of outages in New Providence on Thursday. Some customers complained about up to three outages in a 24-hour period.
"The problem is now critical," Mr Maynard said. "We need new equipment, there will continue to be blackouts throughout the summer if we do not get them immediately. The engines are tripping because the load has increased because it is summer. Everyone has their air conditioning on and so the ancient engines are overloaded.
"The engines are shot and, so until we get new equipment, this is what you can expect. We are professionals at BEC and we will do what we have to do, the power will go off but it will not be for a long period of time. We will do our best to keep the power on but there is only so much we can do, even with the rentals it will not be easy."
Several customers vented their frustration on social media yesterday.
"BPL/BEC are you guys trying to break some type of record tonight. This is ridiculous." one person said. "This is the fourth time current turn off in the past three hours. This gonna be a long summer. When are you guys going to get it together."
Another person wrote: "Worthless I say! I do not care who is the new government, this needs to be fixed. Bahamas Power and Light, this island is 21 by 7, why can't you fix this problem?"
Earlier this month, with the hot summer months approaching, BPL expressed "confidence" in its readiness to take on the peak period with its higher power generation capability.
In a statement, BPL said while it expected the needed power generation this summer to peak at 255 megawatts, its current generation availability is over 345mw. This is 90mw higher than the demand expected this summer.
In addition, the electricity provider said transmission cables between Blue Hills Power Station and the Big Pond Sub-Station have been replaced and upgraded to improve the capacity and reliability of the transmission system.
Pointing to the period from June to September last year, in which BPL experienced challenges due to low generation availability and reliability, the company said it wanted to ensure Bahamians would not suffer from the same issues this summer.
BPL's failure comes after American company PowerSecure was contracted to take over management at the government-owned utility provider. The new management deal was touted by the government as being the answer to sub-par electricity service and high electricity bills.
However the country has still been plagued with repeated power outages, especially in the summer months.