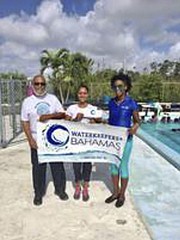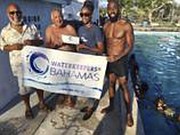 TWO swim programmes in Grand Bahama have received a welcome boost with donations from Waterkeepers Bahamas, the local licensee of the world's largest and fastest-growing non-profit organisation solely focused on clean water.
"We were pleased to show our support for the Freeport Aquatics Club, which has been such a powerful force in teaching discipline and sportsmanship while turning in highly competitive performances, and to the YMCA Swim for Ocean Survival (SOS) programme that has done a remarkable job teaching school children basic in the water survival skills," said Rashema Ingraham, Waterkeepers Bahamas Executive Director.
Both programmes, she said, help prepare people to enjoy the waters safely. "When Bahamians start swimming in open waters at a young age, they develop confidence but just as importantly, they develop an appreciation for the beauty of the underwater world and all the marine life that they would never see up close and personal otherwise," said Ms Ingraham.
Joe Darville, Save The Bays Chairman and Grand Bahama Coastal Waterkeeper agreed. "Being in the water with fish, conch, crawfish, with sponges and corals and grasses, gives all of us a deeper respect for and a better understanding of the need to preserve marine life," he said. "That commitment to preserve complements the goals of Waterkeepers Alliance to make as much of the world's water as possible fishable, swimmable and drinkable."
According to YMCA Director Karon Pinder-Johnson, more than 10,000 people in Grand Bahama - nearly a quarter of the island's population - have participated in the SOS learn to swim programme in the eight years of its existence and this year she is hoping that more teachers will participate. The programme is free and open to students of all schools in Grand Bahama.
"This is a perfect example of a community pulling together, one non-profit helping another to achieve a common goal - appreciating the beauty of our waters and making it safe for more people to enjoy them," said Ms Ingraham.
Founded in 1999 by Robert F Kennedy Jr, Waterkeeper Alliance patrols rivers, bays, lakes and oceans on six continents. Kennedy was in the Bahamas in 2013 to help launch the Conchservation initiative and present the country with its first Waterkeeper licence. Since then, the country has gained two more and volunteers monitor the waters and file reports in three areas of the northern Bahamas.