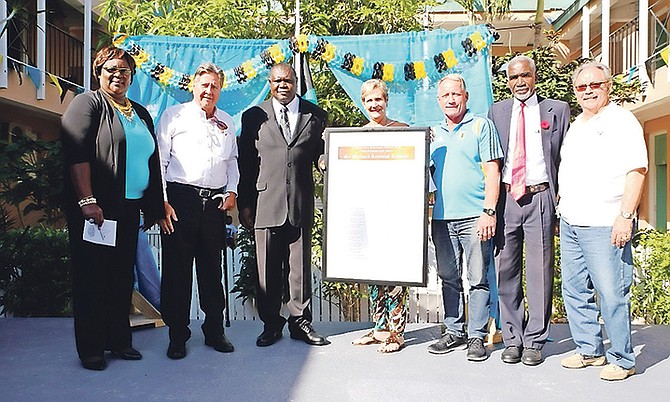 By DENISE MAYCOCK
Tribune Freeport Reporter
dmaycock@tribunemedia.net
THE Walter Parker Primary School celebrated Sir Durward Knowles Day, paying tribute to Sir Durward at a special cultural ceremony held at the school on Wednesday morning.
Sir Durward, who tuns 100 today, is a Bahamian hero and Olympic gold medalist in sailing at the 1964 Summer Games in Tokyo. He is the oldest living Olympic medalist in the world.
His daughter, Charlotte Albury, along with her cousin Andy Knowles, attended the ceremony on behalf of her father, and thanked the students for their wonderful tribute to him. She was also presented with a framed written tribute to her father.
The students recited a powerful poem, written by the school's Vice Principal Rodney Bethel as a tribute to Sir Durward, who is also co-chairman emeritus of One Bahamas and One Bahamas Foundation.
They performed a skit telling the story of Sir Durward's life, a dance by the Walter Parker Tappers and a song by the boys' choir.
Mrs Albury said that seeing the talent of the students was well worth her trip to Freeport.
"I like to bring greeting from Dad, he is going to be 100 tomorrow (Thursday) and he is like a child. He keeps on saying how many more days. And I say, one more day, Daddy. He is looking to his day like a child looking forw ard to Christmas; he said, 'I can' t believe I am going to be 100.'"
She told students that her father is writing a book titled, 'Never Give Up.' She said that her father never gave up on his dream of sailing in the Olympics.
"I want you to listen carefully, what he accomplished in his life, his goal was to never to give up.
"When he started sailing and his family did not have money to do it, he kept on pushing and pushing for people to believe in him and support him, and he never gave up.
"As he got older… he wanted to help other people and he looked at them and told them not to give up. Because with the help of friends and family, and if they believe in you and you believe in yourself, there is nothing you can't accomplish.
"There is nothing you cannot accomplish and the talents you have, I know we have a lot of Bahamian heroes in the future," she said.
Edna Gomez, school principal, extended gratitude to everyone who came out to celebrate at the school.
"Walter Parker Primary is known for great things, and I think that's why Cecil Thompson came to us to put on this tribute to a Bahamian hero. We celebrate all kinds of people and we don't honour our own, and it is good when we honour our own. No Lebron James, no Stephon Curry - Sir Durward Knowles.
"I want to thank Sir Durward's family for gracing us with your presence, and when you get back please extend our best wishes to Sir Durward as he enjoys his 100th birthday," Ms Gomez said.
In addition to his accomplishment in sailing, Sir Durward has served as the national co-chairman of the One Bahamas organisation and visited every school, along with Sir Orville Turnquest, on Grand Bahama, Bimini, Grand Cay and Abaco.
The first Sir Durward Knowles 100 Regatta was held at the Montagu Foreshore in New Providence on the weekend in honour of the sailing icon.