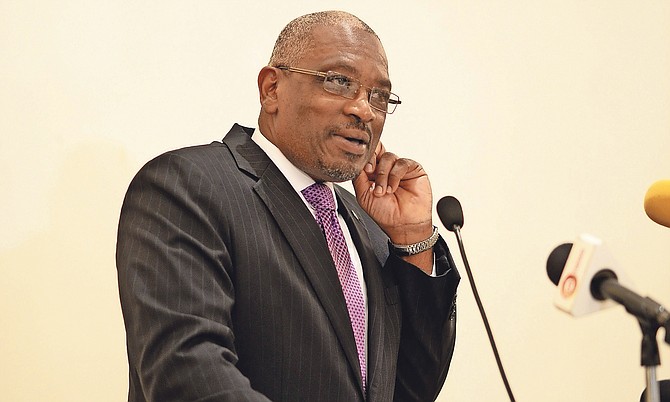 By RASHAD ROLLE
Tribune Staff Reporter
rrolle@tribunemedia.net
THREE years after opposing a salary increase for parliamentarians because of the weak economy, Prime Minister Dr Hubert Minnis now says his administration will raise the salaries of members of Parliament in the next fiscal year.
His position is a U-turn from 2014 when, in response to the Christie administration's desire for the same thing, he said: "As long as I am leader of this country, the FNM would not support any pay increase with all the pain and suffering that is going on in this country."
Since 2014, economic growth remains slow and the Minnis administration frequently laments the state of the country's finances and the unemployment rate remains high.
Yesterday, Dr Minnis painted the intended increase as a sensible development, especially in light of the substantial salaries the former Christie administration paid some contract workers in the past five years. "I only want to put the nation on notice that the time has come when individuals are being paid by that government half-a-million per annum, individuals are receiving contracts up to $800,000 and the members of Parliament are being paid $28,000. I want to put the country on notice that at the next budget I will come forward with a pay increase for the members of Parliament," he said as debate wrapped up in the House of Assembly on a constitutional amendment bill to create an independent Office of the Director of Public Prosecutions. 
"I will establish an independent committee who will look at the members' salaries, who will look at salaries for these half-a-million, these $800,000 and these contracts signed a few hours before election, all of that will be reviewed. (The committee will) review all salary structures for government entitles."
When asked for comment on the planned salary increases, Bain and Grants Town MP Travis Robinson said parliamentarians should make $60,000 to $70,000 per year, likening their current pay to "janitorial salaries." He said increasing the pay of politicians would help stamp out corruption.
In 2014, the Christie administration's establishment of a parliamentary select committee to consider a salary increase for parliamentarians was widely criticised. It came mid-term as that administration's popularity began to wane; the plan was ultimately scratched and MPs' salaries remained the same. 
At the time, Dr Minnis told the Nassau Guardian: "The FNM has not agreed to any salary increase.
"The FNM has agreed to refer it to an independent committee who would look at it. But under these austerity measures that we're seeing today and hard times that Bahamians are experiencing, the FNM cannot agree, even if the report comes back, cannot agree at this particular time for any increase when many people outside are suffering, cannot pay their bills, are underpaid."
He said: "A politician's position, that's a service position. You have been elected to service and just as we had pain and suffering during the road reconstruction where the entire [population of New Providence] suffered at that time, the politicians must likewise feel the pain and suffering that the rest of The Bahamas is going through."
Dr Minnis added at the time: "People are suffering and you are talking about salary increase. Salary increase my foot. As long as I am leader of this country, the FNM would not support any pay increase with all the pain and suffering that is going on in this country. The FNM will push hard for equality. The FNM will push hard to stop this income inequality."
Progressive Liberal Party Leader Philip "Brave" Davis yesterday said a salary increase for MPs is "overdue". He said Dr Minnis should consider recommendations the former administration made rather than establish an entirely new committee to consider the matter.
For his part, Mr Robinson, the youngest parliamentarian, said Thursday a salary increase would help deter corruption.
"I think it's about time that they increase members of Parliament salaries," he said.
"I think that $28,000 a year is highly ridiculous. Members of Parliament are being given janitorial salaries. It is no easy task out there and if we are serious about stemming this tide of corruption then we must have a balanced approach to it and I think this increase would give that balanced approach."
Asked to recommend a salary, he said: "I would say about $60,000 to $70,000 a year. It's long overdue. You cannot expect that members of Parliament in the government, they are dealing with staff who are being paid three and four and five times their salaries and they must sit there and not indulge in some form of corruption. It is ridiculous. My Minister of Tourism (Dionisio D'Aguilar), there are 32 persons in our ministry who are paid more than him. He's the minister and 32 people are paid more than him, so imagine me as the parliamentary secretary. I think that the public should have no objections to it. We should see it as another phase of stamping out corruption."
• An earlier version of this story said: "The report from the former parliamentary select committee, which was headed by Dr Bernard Nottage, now deceased was never disclosed to the public." The Tribune would like to clarify that the report was read in Parliament by Dr Nottage in 2014.