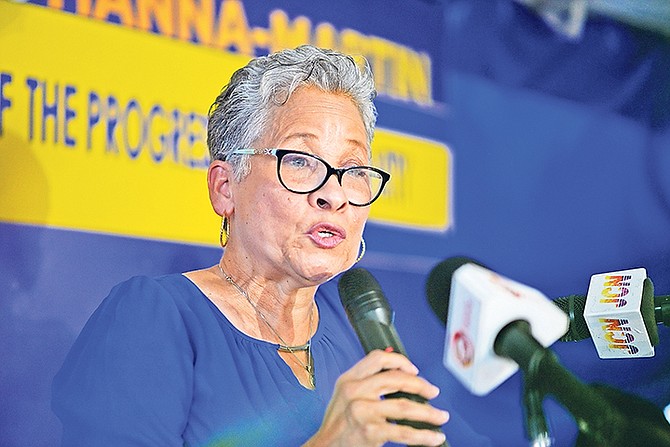 By AVA TURNQUEST
Tribune Chief Reporter
aturnquest@tribunemedia.net
ENGLERSTON MP Glenys Hanna-Martin called Prime Minister Dr Hubert Minnis' plans to raise the salaries of members of Parliament in the next fiscal year, a "crass contradiction".
In a post on Facebook on Thursday, Mrs Hanna-Martin underscored recent job cuts and the government's statements concerning the state of the country's economy.
"So tell me," the post read, "the PM says he intends to increase salaries of sitting MP's (all of whom already have full-time jobs and are earning salaries in addition to MP's salaries); this after having fired hundreds of Bahamians leaving them without income, claiming that the 'cupboard is bare'. Am I missing something about this crass contradiction? Ummm.. is it really the 'People's' time?"
Following Dr Minnis' announcement, Progressive Liberal Party Leader Philip "Brave" Davis said a salary increase for MPs is "overdue".
He said Dr Minnis should consider recommendations the former administration made rather than establish an entirely new committee to consider the matter.
In 2014, the Christie administration's establishment of a parliamentary select committee to consider a salary increase for parliamentarians was widely criticised.
The report from the former parliamentary select committee, which was headed by Dr Bernard Nottage, now deceased, was never disclosed to the public.
At the time, Dr Minnis said the FNM would not agree to an increase due to economic hardship faced by Bahamians, adding that a politician's position was one of service.
In the Lower House on Thursday, Dr Minnis painted the intended increase as a sensible development, especially in light of the substantial salaries the former Christie administration paid some contract workers in the past five years.
"I want to put the country on notice that at the next budget I will come forward with a pay increase for the members of Parliament," Dr Minnis said as debate wrapped up in the House of Assembly on a constitutional amendment bill to create an independent Office of the Director of Public Prosecutions.
"I will establish an independent committee who will look at the members' salaries, who will look at salaries for these half-a-million, these $800,000 and these contracts signed a few hours before election, all of that will be reviewed. (The committee will) review all salary structures for government entitles."