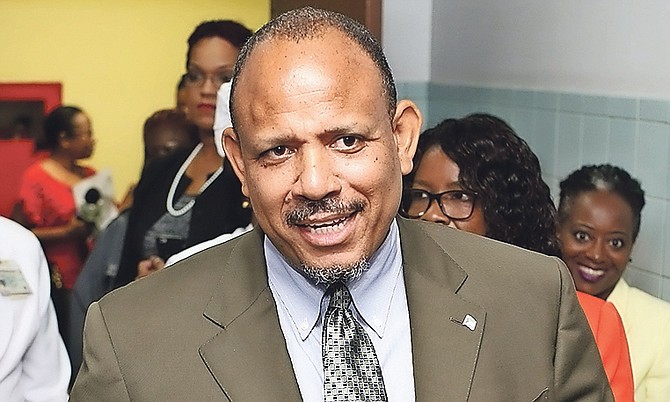 By SANCHESKA DORSETT
Tribune Staff Reporter
sdorsett@tribunemedia.net
THE Ministry of Health is in the process of reviewing the current breadbasket food items list with the view of removing "unhealthy food" from this category and replacing them "with healthier options," according to Health Minister Dr Duane Sands who said the initiative could drastically improve the "horrible health profiles" of Bahamians.
In an interview with The Tribune, Dr Sands said a caring government cannot say Bahamians are obese and have health challenges and then "do nothing about it."
He said items like sugar, mayonnaise, condensed milk and corned beef are at risk of being deleted from the breadbasket list and replaced with fruits, vegetables and other healthy foods. Other items that are considered breadbasket are butter, cooking oil, cheese, grits and bread.
In July, Dr Sands revealed the Bahamas has the "highest incidence" of diabetes in the world and 79.2 percent of the population is obese or overweight.
He said traditionally, Bahamians eat a diet high in predominantly animal fat, sugar and salt coupled with limited physical activity.
As a result of these poor lifestyle choices, obesity and other chronic non-communicable diseases (CNCDs) are rampant and exhaust a significant portion of the country's national health budget annually in providing care, medication, and rehabilitation services.
In 1971, the Bahamas established a designation for Breadbasket Food Items, which is made up of a number of selected foods under price control. Selling any items on the list above the price controlled mark-up would constitute a violation of the Price Control Act.
However, Dr Sands said foods listed in this category were not selected based on nutritional value but presumably based on the effort to maintain affordability of staple foods.
"I cannot preempt the discussions and negotiations but the overarching theme is we need to move to a point where the food that we say that everyone should be able to afford are not the foods that will kill you and they are healthier and they will reduce the likely diabetes and high blood pressure," Dr Sands said.
"So in about two weeks we will begin discussion with the community. We want to make sure people can afford to eat healthy. The policy we will form will be informed by the evidence. If we say we will put rice, then we have to say what kind of rice and what kind of flour, we need to make healthy choices. So after the discussions we will make recommendations to change the traditional bread basket. We will push a healthier agenda that will likely reduce high blood pressure and diabetes and improve the horrible health profile of Bahamians. If we make the healthier food cheaper, Bahamians will purchase the items that are better for their health."
Dr Sands said public discussions will begin in about two weeks.
More like this story