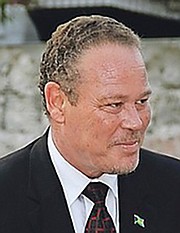 By RASHAD ROLLE
Tribune Staff Reporter
rrolle@tribunemedia.net
THE Minnis administration will not just grant automatic citizenship to children of Bahamian women born abroad upon application, but to children of unwed Bahamian men as well, Attorney General Carl Bethel said yesterday.
It will accomplish the latter by amending the Bahamas Nationality Act and the Status of Children Act.
Mr Bethel's statement came amid concerns Prime Minister Dr Hubert Minnis' initially revealed policy––granting automatic citizenship to children born abroad to Bahamian women––would do nothing to help some children born to unwed Bahamian fathers.
Under present law, the child of an unwed Bahamian man and a foreign woman is not an automatic Bahamian citizen. The child would have to apply for citizenship after reaching the age of 18.
The issue was the third question put to Bahamians in last year's constitutional referendum. It was rejected, with 28,246 people voting yes to changing the Constitution to give an unwed Bahamian father the same right that a Bahamian woman has to pass citizenship to a child born in or out of wedlock and 54,890 people voting no. 
Tavarrie Smith, an attorney and juvenile rights advocate who says he would challenge any discriminatory change to the Bahamas Nationality Act on behalf of his clients, said yesterday: "I represent a number of young men who lack proper status here in the Bahamas because their mothers are of Haitian descent or from Turks and Caicos, despite the fact that their father is a natural born Bahamian. In one instance, the father is the sole surviving parent because the mother has passed away and he is often met with difficulties regarding his children status. 
"Over 60 percent of children born in the Bahamas are born out of wedlock to unmarried mothers and fathers. Unless the proposed amendments remove the discriminatory limitation of children born only to Bahamian women, we will still be left with a very large segment of stateless and undocumented children born in the Bahamas."
Asked for a response, Mr Bethel said the administration's changes to citizenship provisions will put children of unwed Bahamian men and children of married Bahamian women born abroad on "broadly equal footing." 
Mr Bethel said: "Actual paternity [not putative] may be proven by DNA testing pursuant to a court order under the Status of Children Act. But that law presently states that paternity so established cannot be used to acquire Bahamian citizenship."
The Christie administration made amending the Status of Children Act conditional on the passing of the third constitutional amendment bill in last year's referendum. 
Asked for his reaction yesterday to the Minnis administration's plans, Progressive Liberal Party (PLP) Chairman Fred Mitchell said the plans run contrary of legal principles. 
"There is a principle in law I thought that you cannot amend the Constitution through stealth or the back door," he said. "It would seem again that what they propose will run afoul of that. As I indicated right now, Section 6 of the Bahamas Nationality Act gives the minister the power to give citizenship to any child. So there is no need to do anything other than improve the administrative procedures."