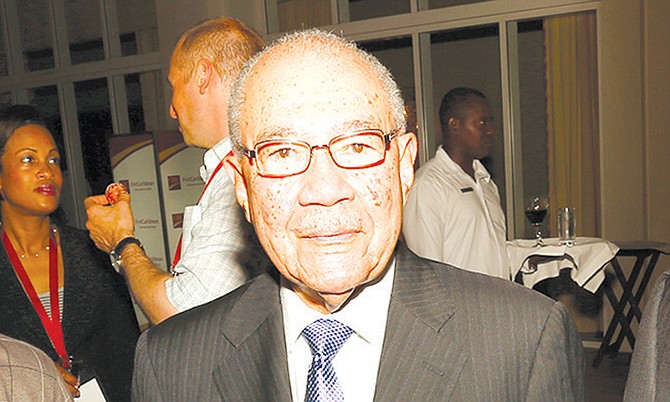 By KHRISNA RUSSELL
Deputy Chief Reporter
krussell@tribunemedia.net
FORMER advisor and consultant Sir Baltron Bethel was adamant yesterday his "reputation and work speaks for itself" amid backlash over the Christie administration's decision to renew his contract a year before it expired, also increasing his salary by $60,000 annually despite him having no additional duties.
However, Sir Baltron told The Tribune he expected to have his termination amicably settled with the Minnis administration and his contract honoured.
Prime Minister Dr Hubert Minnis tabled documents in the House of Assembly last week, which revealed about two weeks before the general election, the former Christie administration renewed Sir Baltron's contract as a senior policy advisor and consultant in the Office of the Prime Minister and the Ministry of Tourism, agreeing to pay him $800,000 over a four-year period.
When this contract was compared with an earlier three-year contract dated May 19, 2015 and effective May 14, 2015, no justification for a salary increase was apparent. The 2015 agreement showed the former advisor was initially to be paid $140,000 for the same duties outlined in the new 2017 contract.
This contract, Dr Minnis told Parliament, in addition to contracts of two others would not be honoured, adding they could "take me to court" over the agreements.
Asked about this, Sir Baltron said: "I have no comment on that. Additionally, I am not making this matter a matter of public debate and I expect that contracts will be honoured.
"I am not going to enter into a public debate on the matter. My reputation and my work speaks for itself," Sir Baltron said when he was asked about his feelings regarding Dr Minnis making public the terms of his work for the former government.
Earlier in his interview with The Tribune, Sir Baltron said: "I have completed my work with the government and I expect that we will have the termination amicably settled in accordance with my letter of termination."
According to Dr Minnis last week, on April 24, 2017, Sir Baltron signed a contract from Permanent Secretary Charles Albury "agreeing to extend" the current contract which was to expire May 14, 2018.
Mr Albury wrote this contract would run on for a further period of two years, effective, May 14, 2018.
The agreement read: "Additionally, having regard to the expanded services you are providing, it has further been agreed to increase your fixed salary to $200,000 per annum with effect from January 1, 2016.
"In addition, you will receive paid medical insurance for you and your spouse and have provision of an automobile. A gratuity of 15 percent of your salary is payable on successful completion of your contract."
In addition, all expenses relating to approved travel, inclusive of air fare, hotel accommodation and per diem necessary to the successful execution of Sir Baltron's duties were to be governed by the extant policy of the Ministry of Tourism.
Asked about this contractual agreement, Official Opposition Leader Philip "Brave" Davis said last Friday he believed Bahamians got value for money as the former advisor is a man of great knowledge and expertise.
Mr Davis further castigated Dr Minnis for making information about the increase public, insisting it was "disgraceful."
Asked why Sir Baltron's salary was increased despite there being no change in his job description, Mr Davis said: "Maybe those who were engaged recognised that the initial sum was inadequate."
Despite this defence, Mr Davis pointed out this issue would have not been in his purview under the former government where he was the deputy prime minister and minister of works.
"It's disgraceful to be exposing what technocrats and experts are making," Mr Davis told The Tribune. "It's not apples and apples, but apples and oranges, and it's rather unbecoming and disgraceful to continue along this line.
"They are doing the same thing [they accuse the former government of doing], entering into similar contracts, but they are not exposing those."