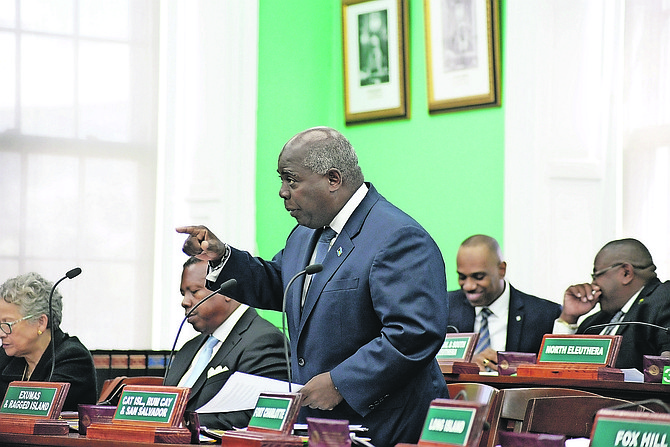 OPPOSITION Leader Philip "Brave" Davis has revealed he intervened to cancel a contract awarded to his brother by the former Bahamas Electricity Corporation (BEC) board while he served as minister responsible for the power company.
Mr Davis responded to revelations outlined in the Ernst & Young (EY) audit into operations at Bahamas Power & Light (BPL), and reported in The Tribune on Wednesday.
The EY audit revealed one company owned by Mr Davis' brother, AL D's Construction & Roofing, received contracts from BEC even though the business was not the preferred bidder in a tender process.
Standing on a point of privilege in the House of Assembly on Wednesday, Mr Davis said he moved to block the contract as soon as he was made aware of it, and instructed his permanent secretary to write directly to the corporation.
He suggested the clarification was intentionally left out of the audit to further the political narrative set by the Minnis administration, adding he discussed the oversight in the report with Works Minister Desmond Bannister in September.
Mr Davis tabled a letter directing the cancellation of the contract, which was supported by Mr Bannister, who later gave a statement "exonerating" Mr Davis.
Mr Davis said he has directed his lawyers to look into the matter, which he claimed cast him in a negative light.
The EY audit flagged numerous "irregularities" in the way contracts were awarded by the BEC since 2012, including lack of due diligence leading contracts being awarded to companies "owned by public officials or BEC board members."
It identified instances where former Executive Chairman Leslie Miller allegedly "influenced procurement decisions" for the awarding of contracts "or circumvented the process entirely."
Despite repeated calls, Mr Davis could not be reached for comment on Tuesday.
However, The Tribune's report does not implicate Mr Davis in any wrongdoing. The audit report stated the contracts were awarded to his brother following a handwritten response from Mr Miller to BEC officials, stating the board requested for the contracts be awarded to AL D's Construction & Roofing instead of two other companies.
For more on this story, see Thursday's Tribune