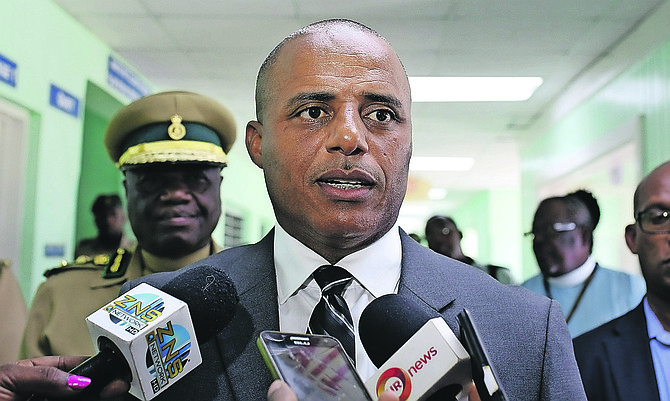 Reader poll
298 total votes.
By KHRISNA RUSSELL
Deputy Chief Reporter
krussell@tribunemedia.net
NATIONAL Security Minister Marvin Dames yesterday defended Prime Minister Dr Hubert Minnis' proposed salary increase for Members of Parliament insisting critics should be realistic and not "politicise" the issue.
He added he uses a portion of his salary to help constituents in Mount Moriah and also said the government expects the economy to be stronger next year, when the prime minister has said he will introduce the raise.
The Minnis administration has been the target of fiery criticism since Dr Minnis last week announced that in the next budget he would present an increase for MPs who currently are paid $28,000 a year.
The prime minister also said an independent committee would be formed to look at all salary structures for government entities.
This portion of the prime minister's comments seems to be missing from national discourse, Mr Dames told The Tribune yesterday shortly before heading into the morning session of Cabinet.
"(The prime minister) did not single out MPs," Mr Dames said. "We are going to take a look at raises across the board. If we say now that we are going to take an aggressive approach towards corruption what the prime minister is saying is that the $28,000 I'm giving you I know that may not be sufficient but here is what we're saying, we are going to review that to see whether that is in line with the region and the other parts of the world.
"But if it isn't, we'll bring that up. But we're not only referring to MPs, people have a way to politicise stuff. Not only MPs' salaries, we are talking about salaries across the board.
"And the prime minister said next year and so we are confident that our economy will continue to grow and maybe there will be an opportunity to review MPs' salaries and every other person's salaries."
The Mount Moriah MP added: "If you talking about salaries, we have people within the service who are making hundreds of thousands of dollars, three or four or maybe five times as (much as) MPs and not even working as hard. So we need to cut the politics out of it and look at the reality."
He said this was a part of the government's strategy to curb the occurrence of corruption.
"Because as the prime minister says once we do that then I am saying to you, my ministers and everyone else there is no need for you to be going around the corner to be taking $10,000, $20,000 or $30,000 because I am coming after you but I am saying I want to make it fair.
"From my personal perspective with my salary, in addition to having my own financial obligations, I ensure that a portion of that goes to helping people in my constituency because I think that's the right thing to do because when people don't have and you have a little more, you want to help them. We need to look at it from a realistic stand point."
This comes after Works Minister Desmond Bannister told The Nassau Guardian on Monday a review of MPs' salaries is long overdue. He applauded the prime minister for addressing the controversial issue.
Dr Minnis has been heavily criticised over the issue because he was against the same matter three years ago while in opposition.
Back in 2014 and in response to the Christie administration's desire for the same thing, he said: "As long as I am leader of this country, the FNM would not support any pay increase with all the pain and suffering that is going on in this country."
Since 2014, economic growth remains slow and the Minnis administration frequently laments the state of the country's finances and the unemployment rate remains high.