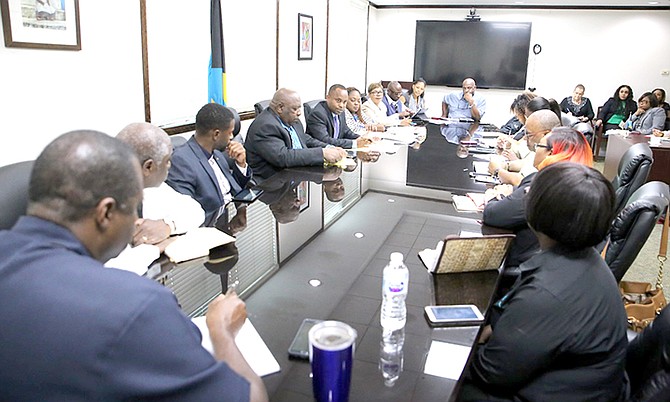 By Andrew Coakley
Bahamas Information Services
Combining the beauty of the Bahamas with some of the world's most informative, ingenious and well-versed individuals in the world of modern technology – the Grand Bahama Technology Summit is set for November 9-10, 2017 in Freeport, Grand Bahama.
For a historic few days, Silicon Valley tech wizards on the cutting edge of their craft are expected to deliver first-hand information on what's new, what's trending, and what the future will look like in the world of technology.
The Minister of State for Grand Bahama, Senator Kwasi Thompson whose office is behind the preparation and hosting of the summit said, recently: "If you are a major international tech company, we want you in Grand Bahama; if you are a Bahamian and want to set up a tech company, we want you in Grand Bahama."
Speakers
There will be an impressive list of speakers headlining this first summit from Google, Hewlett Packard and Microsoft, to name a few.
One such speaker is Microsoft's Xerxes Beharry, a Trinidadian who has always been passionate about technology. At the age of 16, he ran his own business customising databases for local insurance agents. This early endeavour influenced his decision to pursue higher education at Florida Institute of Technology. There he earned his Masters in Computer Engineering before being hired by Microsoft as a Program Manager. During the past six years at Microsoft, he has had the opportunity to work on iconic products such as MSN Messenger, Windows, and, most recently, HoloLens – the world's first self-contained holographic computer. He holds two US patents for his contributions in HoloLens and Windows.
From Hewlett Packard, Michael Johnston is a Solution Architect for Large Public Venues at Aruba/HPE and is a global expert in Very High Density Wi-Fi deployments and indoor Location Based Services for sporting arenas and stadiums, with several seating over 100,000 guests. Michael has unique experience in supporting the design and deployment of Wireless Service Provider networks, including some of the largest and most successful city-wide/municipal wireless networks supporting Intelligent Traffic Management Systems and SCADA Telemetry systems. Michael has over 18 years of wireless communication expertise built upon a Bachelor of Science Degree in Business Management and his U.S. Air Force experience maintaining airborne electronic warfare systems.
There will be a host of other top-ranked speakers at the event, including Dr. Donovan Moxey, of CBI Mobile (Bah.) Ltd in Nassau, Bahamas; Dr. Jeff Schlossar, of SoniTrack Systems Inc.; Aisha Bowe, of STEMBoard and formerly NASA, a Bahamian working in Washington, DC; Dr. Gadryn Higgs, a Grand Bahamian, formerly of Linkedin, working in Silicon Valley; and Larone Burrows, a Grand Bahamian Inventor working in Silicon Valley.