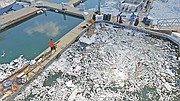 By RICARDO WELLS
Tribune Staff Reporter
rwells@tribunemedia.net
ONGOING environmental issues in Bimini will persist unless the government enacts the necessary legal framework to protect Family Island communities, Save The Bays legal director Fred Smith, QC has warned.
In an interview with The Tribune Mr Smith said he was shocked by the level of help being provided to the residents of Bimini, likening their pleas for government intervention to an unnoticed cry for help.
The environmentalist said he feared Bimini was finally succumbing to years of "social, economic and environmental discombobulation" at the hands of successive governments and "foreign invaders".
"What we see in Bimini is the result of the anchor project being encouraged by central government's failed heads of agreement economic model," the outspoken attorney said.
"This has happened in West End with the Wynn Group; in various parts of the Exumas, in Mayaguana, Baker's Bay with Guana Cay; and the dozens of other failed anchor projects littering The Bahamas. All we've got to show for this is failed economic development and all sorts of environmental issues. It is sad that this is where we are at as a country."
Mounds of Styrofoam have washed up on beaches around Bimini stemming from damage to Resorts World Bimini's (RWB) floating docks from Hurricane Irma.
More than six weeks since the storm tore through floating docks at RWB, residents said they are still fishing large chunks of Styrofoam from bays around the island.
Last week, it was also revealed more than 100 workers were being laid off from the resort as it struggles to cope in the aftermath of the hurricane.
Mr Smith, like other local environmentalists, has called on the government to enact legislation to legally protect Bimini's marine habitats.
He repeated that call to The Tribune, urging the Minnis administration to enact legislation which would allow for the legal preservation of all marine protected areas (MPAs), particularly in Bimini.
"It is time for the people's government to decentralise and amend the Local Government Act to give home rule to the Family Islands so that they can be responsible for their own local economies through local taxes," he said.
"In the 21st century in The Bahamas, all roads don't have to lead to Nassau. It is also the people's time in the Family Islands.
"Bimini is a tragic example of how we have allowed foreign invaders to rape our islands. Unfortunately PLP and FNM governments have taken a complete hands-off approach to environmental disasters."
Taking aim at the Minnis administration directly, Mr Smith added: "There is no reason a 35 of 39 seats majority can't find the ability to do what is right. We need teeth in our laws. We need true protection for our islands and their natural habitat. We need this now.
"We need less talking now. We need statutory bodies that act and get things done. We need bodies that can push for prosecution and true environmental protection; not another BEST Commission," he concluded.
Last month, residents said they were concerned that without the national spotlight focused on Bimini, RWB may not feel inclined to "finish the job" in terms of environmental clean-up.
A government delegation to Bimini in September in the wake of Hurricane Irma was greeted by the Save Our Home protest group.
Representatives from the group used the opportunity to corner Prime Minister Dr Hubert Minnis and detail how decades of mismanagement and poorly sanctioned developments led to the destruction of 450 acres of mangroves along the coastline of northern Bimini.
A second government delegation was expected to travel to Bimini last weekend, however, that trip never materialised according to West End and Bimini MP Pakesia Parker Edgecombe.