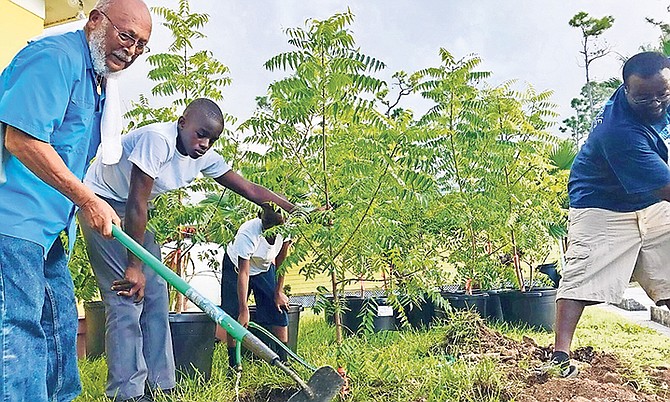 SAVE The Bays took its greener is better message to a different kind of platform recently, far from the halls of government and the courts right to the Grand Bahama Humane Society.
The organisation planted 15 neem trees on Humane Society grounds.
"Grand Bahama has had so many challenges with a slow economy and one storm after another hitting the island including most recently Hurricane Irma," said Save The Bays Chairman Joe Darville. "The result has been that many who are displaced or out of work have turned to the Grand Bahama Humane Society, giving up their pets because they simply could not afford to feed and care for them. The Humane Society grounds are large, but there is little shade and with the larger than usual numbers of four-legged residents, staff and volunteers were in a quandary."
The environment advocacy group took a chunk of the budget usually reserved for Earth Day when members plant trees on school grounds on various islands and purchased 15 trees from Abaco Neem. They were shipped to Freeport and volunteers from Save The Bays planted them. Grand Bahama Humane Society Executive Director Tip Burrows said they were thrilled.
"We are really thrilled about this wonderful and timely donation," said Ms Burrows. "In the summer, it gets so hot out in the dog play area, and we want them out of their kennels. We are looking forward to the trees flourishing and providing a canopy of shade for the next few years, maybe even by this coming summer."
Mr Darville said the trees were specifically selected for their properties and to support local growers.
"Neem is called Nature's Pharmacy," said Mr Darville. "The trees contain all sorts of medicinal properties. They also keep mosquitoes at bay and most importantly for all the Spots and Fidos in the care of the Humane Society, they provide shade."