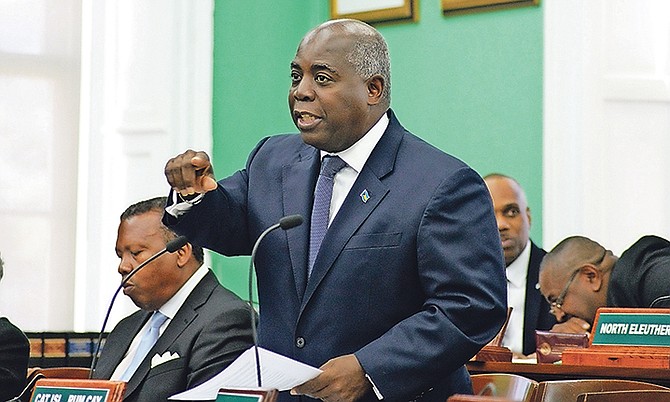 By RASHAD ROLLE
Tribune Staff Reporter
rrolle@tribunemedia.net
OPPOSITION Leader Philip "Brave" Davis called the Minnis administration's amendment to the Pensions Act the "Ellison Greenslade amendment" yesterday, arguing it serves no public good but is a tool the administration has used to negotiate Mr Greenslade out of his position as commissioner of police.
Mr Davis meticulously argued the amendments to the Pensions Act were not benchmarked against other provisions in law but conveniently fit the specific circumstances that allows Mr Greenslade to receive maximum pension benefits. Despite serving in the RBPF for fewer than 40 years and as commissioner for less than ten years – facts that would have precluded him from receiving maximum pension benefits before the passing of yesterday's amendment – Mr Greenslade has taken up his new post as high commissioner to the United Kingdom with maximum pension benefits.
"The law is the force behind all tangible things that a society may possess and while the law is akin to a living creature, it should not be manipulated to suit an individual's purpose," Mr Davis said.
Citing a Tribune report, he noted Attorney General Carl Bethel said last month the Minnis administration would amend the Pensions Act to "capture and formalise what occurred in the 1980s where Richard Demeritte, the auditor general at the time, was permitted to complete his pensionable time while servicing as high commissioner to the Court of St James (United Kingdom). That practice allowed him to complete his pensionable years in that capacity".
However, Mr Davis explained there is a distinction between what happened to Mr Demeritte and what the Minnis administration will now allow to happen through the Pensions Act.
He said: "(Mr Demeritte) was permitted to complete his pensionable time while serving (in another capacity but the) commissioner isn't allowed to complete his term; it's being truncated and we are now amending the law to reduce his time of service to suit him.
"It is obvious that this proposal was not subjected to basic scrutiny or thought," he added.
"Nobody asked the tough but simple questions: have we done this before; what happened then? It will be interesting to learn what benchmark was used for this purpose. Why seven years? During the ceremony of the handover of the commissioner of police, the prime minister, the member for Killarney, announced numerous strategies to fight crime on every level and to fight corruption. Somehow the issue of term limits came up and he announced his government's intention to reintroduce term limits for the commissioner of police and for the commander of defence force and commissioner of corrections. I think he indicated that it will be five years. So why seven years (to receive maximum pension benefits) when you (consider) the term limit that has been proposed to be exacted now on serving commissioners?
"The perception is now that we are negotiating the law to serve our purpose and not the common good."
To highlight the extent to which the Pensions Act has been amended to suit Mr Greenslade, Mr Davis said there were several other benchmarks the administration could have used.
"(There are) several options in law that could have been considered as benchmarks, even their 2009 model of five-year terms," he said.
"Judicial officers have the five-year provisions. We know the governor general has no specified time for service to secure pension. Why not eight years then? Consistent with provision section four of the Parliamentary Pensions Act which provides that prime ministers, MPs and senators must serve at least eight years or two full parliamentary terms, whichever is the lessor? Why not eight years again consistent with Pensions Act for permanent secretaries? Why seven years if it is for the common good? I'm sniffing and I cannot get around the thought that the departure of the commissioner was negotiated rather than voluntary, particularly with the personalities involved and after all that transpired since this government took office. Literally the commissioner went missing in action. There's no room in government for even the appearance that this is a shot-gun separation… We are today debating the Ellison Greenslade bill after four months with an absent commissioner and rampant crime."
During his speech, Mr Davis and National Security Minister Marvin Dames got into a back-and-forth about whether crime stats are escalating but the opposition leader eventually withdrew his most controversial statements on the matter.