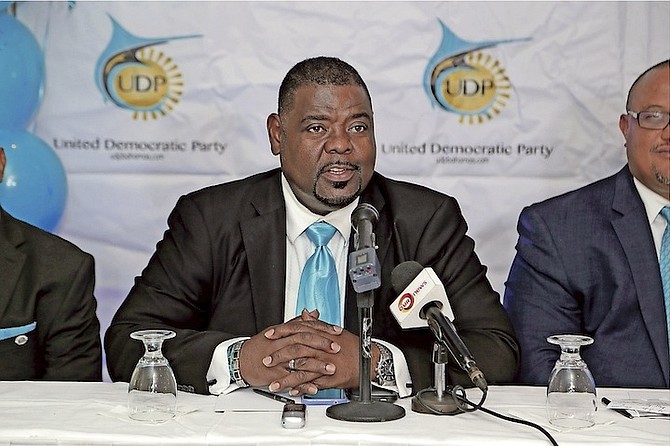 By SANCHESKA DORSETT
Tribune Staff Reporter
sdorsett@tribunemedia.net
FORMER Bahamas Public Service Union (BPSU) President John Pinder said yesterday the more than $700,000 paid out to Royal Bahamas Defence Force (RBDF) officers in 2014 was not "wrongly paid out" as indicated by the Office of the Auditor General.
In fact, Mr Pinder said the "lump sum payments" were intentional as it is common practice for all members of the disciplined forces "to get whatever money is negotiated" by the BPSU on behalf of its members.
Yesterday, The Tribune reported more than $700,000 was wrongly paid out to 1,227 RBDF officers in 2014.
According to a report by Auditor General Terrence Bastian, the officers were given lump sum payments otherwise afforded only to BPSU union members despite the fact RBDF officers are among a group explicitly excluded from receiving the lump sums according to the 2014 BPSU Industrial Agreement.
The report said $710,250 was wrongly paid out.
The finding is contained in an audit report tabled in the House of Assembly Wednesday for the period July 1, 2013 to June 30, 2015.
"The practice is every time the BPSU negotiates on behalf of the public service it is also given to them (RBDF officers) as well," Mr Pinder told The Tribune on Thursday.
"Because the defence force and prison officers and the Royal Bahamas Police Force do not have a union, every time we get an increase in salary they get it as well because they have no one to negotiate on their behalf.
"They are considered military so it was not a mistake. These auditors are looking at policy instead of asking the questions. The practice is whenever we get a general increase the disciplined forces get it as well. So it was not a mistake, it was intentional."
Mr Bastian, during his investigation, also found an irregularity that had the opposite effect, robbing some officers of payments to which they were entitled.
The salary entry point for officers is $18,600, but some RBDF recruits received $600 less than they should have, Mr Bastian found.
The auditor general said to now pay $600 per annum to 833 people who were enlisted between 2003 to 2015 "would have a monumental impact on public funds."
In fact, he said the impact on the Consolidated Fund could be as high as $435,000 if anomalies connected to the issue are addressed.
The Office of the Auditor General also found five vendors who provided services to the RBDF between 2013 and 2015 under-reported the amount of money they received to a combined total of $1,047,321.95, impacting their associated business licencing fees.