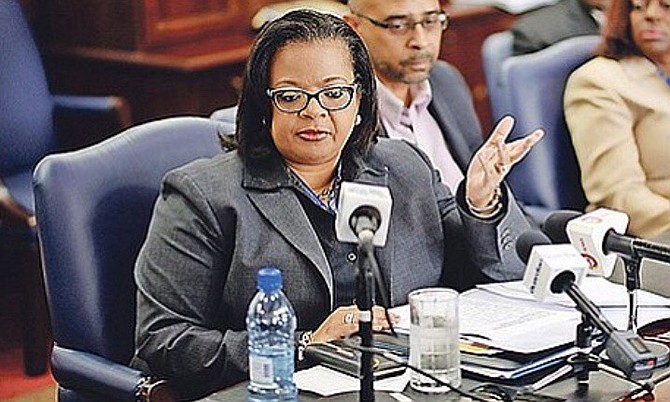 By KHRISNA VIRGIL
Deputy Chief Reporter
kvirgil@tribunemedia.net
BPL chairwoman Darnell Osborne said yesterday officials are in the process of "tightening" and "centralising" how contracts are awarded at the power company.
Her statement came on the heels of Ernst & Young's (EY) audit into Bahamas Power and Light (BPL) which exposed instances where procurement decisions were allegedly influenced and processes circumvented under the previous administration,
Speaking to The Tribune yesterday, Ms Osborne said adhering to international best practices is also the aim of the improved procurement measures.
Her comments come two days after The Tribune published contents from EY's audit into BEC now known as BPL, which accused former Executive Chairman Leslie Miller of allegedly "influencing" procurement decisions and sometimes "circumventing" the process altogether. Mr Miller has denied these allegations.
"We had put in place some stop gap measures where the bid process will now be changed," said Ms Osborne.
"We have more individuals who must be present at the opening of the bids. We also have implemented more of a centralised procurement process and not each and every department and everyone accepting these bids and what not.
"We expect that the procurement process will be tightened and international best practices observed."
She added: "In the meantime, we have just centralised the process. We have required that the CEO's administrative assistant accepts and records the bids and there are more individuals who must be present.
"We are also moving towards having an email for tenders and this email being reviewed by whomever the CEO or COO has appointed. That would help to eliminate the biases that would exist where people are able to take out and look at bids and that sort of thing. So there are a number of things that are being done just to tighten it and improve the procurement process."
On Tuesday, The Tribune revealed EY found alleged actions taken by Mr Miller regarding the issuance of contracts worth less than $100,000 – below the limit of board/chairman involvement – at the government entity were "highly irregular".
The audit also flagged numerous "irregularities" in the way contracts were awarded by BEC since 2012, including lack of due diligence leading contracts being awarded to companies "owned by public officials or BEC board members".
The probe further revealed one company owned by the brother of Progressive Liberal Party (PLP) Leader Philip "Brave" Davis received lucrative contracts from BEC even though the business was not the preferred bidder in a tender process.
The company, AL D's Construction & Roofing, received two contracts for a higher value than the recommended bidder. Mr Davis has since revealed he intervened to cause the cancellation of two contracts awarded to his brother's company by the BEC while he served as minister of works in the Christie administration.
Mr Davis insisted he did not want his brother to be awarded any contracts with the Ministry of Works or any agency in his portfolio and as a result he moved for them to be cancelled when he learned these wishes were not honoured.
The audit found while two BEC executives wanted to award these contracts to two different companies, Mr Miller wrote to the officials directing them that BEC's board had requested the contracts be given to AL D's Construction & Roofing instead.
Investigators also found a company owned by Mr Miller – Mario's Bowling and Entertainment Palace – received $52,192 from the utility provider since 2012.
When questioned about the audit's findings earlier this week, Mr Miller pushed back on the report saying "every contract" awarded by BEC's board was given to the lowest bidder. He denied engaging in any irregular practices insisting he led a "top notch" team at BEC and saved the government millions of dollars in overtime pay and other expenses during his tenure.
He also denied Mario's Bowling had any contract with BEC/BPL. He claimed to be unaware of any contract being given to a relative of Mr Davis.
EY's analysis of accounting data also found numerous irregularities, including payouts to some companies that were not registered with the Corporate Business Registry and more than $3m in payouts to vendors with tax identification number (TIN) anomalies.