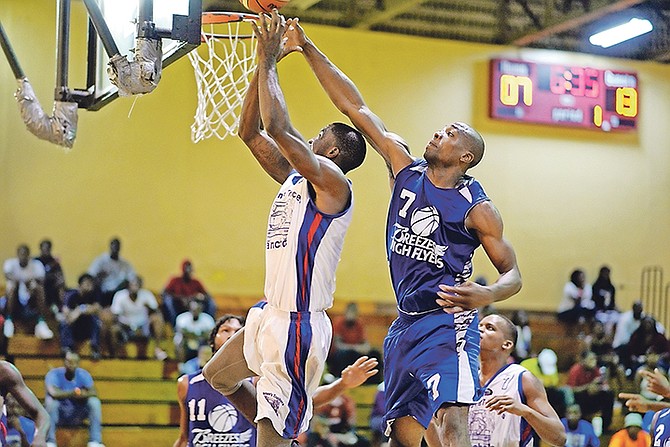 IN the New Providence Basketball Association (NPBA) tonight, the Breezes High Flyers are scheduled to play Elite Basketball Club in the men's division II opener at the Kendal Isaacs Gymnasium.
And the men's division one feature contest will showcase the University of the Bahamas Mingoes against the Island Game Pros.
On Wednesday night, the PJ Stingers and Resistance were winners of the double header at the AF Adderley Gymnasium.
The Stingers won their second straight game with a 106-99 decision over the Pirates in the men's division one play.
The Resistance got by the Triple K Stampers 86-83 in the division II encounter.
Stingers 106,
Pirates 99
Salathiel Dean, in 27 minutes and 42 seconds, had 22 points with 13 rebounds, seven assists and three blocked shots to lead a balanced scoring attack for PJ's.
Devon Ferguson scored 16 points with three rebounds and three steals, Batchlette LaFleur also had 16 points with three rebounds, three steals and two assists, Mario Pickstock had 10 points with three assists and two steals, Henry Rolle had nine points and four rebounds, Kendrick Curry had seven points and three assists and Horris McKenzie added six points.
In a losing effort, Scottie Farrington poured in a game high 22 points with 12 rebounds and three assists in 33:02 to pace the losers.
Dominique Fernader had 20 points, eight rebounds and three assists, Jerone Smith had 15 points and four rebounds, Kronoff Dean had 11 points, eight assists and three rebounds and Tevin Hudson added 10 points and four rebounds.
More like this story