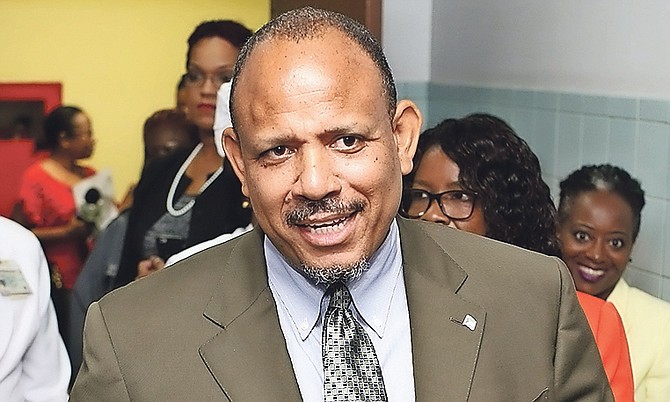 By RICARDO WELLS
Tribune Staff Reporter
rwells@tribunemedia.net
HEALTH Minister Dr Duane Sands said yesterday the government is monitoring global trends in the decriminalisation and legalisation of marijuana, but doubted the Bahamas would "follow suit" in the immediate future.
However, in addressing the matter from both a personal and a professional standpoint, Dr Sands in an interview with The Tribune contended the Minnis administration would be "objective and open-minded" in its discussions on the issue.
This comes on the heels of National Security Minister Marvin Dames' suggestion the Bahamas should consider decriminalising marijuana "at some point".
Dr Sands said while there are many people who would advocate for the outright legalisation of marijuana, there needs to be a proper discourse on all the pros and cons related to the topic.
"Let's watch how this thing play out and let's pay attention to the pros and cons," he told The Tribune.
"We have agreed that we are going to participate in the activities of CARICOM who has started to get the evidence of medical marijuana and we will participate in that discussion."
Dr Sands continued: "When asked this question previously, I would have said the Bahamas is not likely to lead this discussion and so, I do not believe that the Bahamas will be the next dominoe to fall. I think it is very important that people look for the evidence and there is evidence for and against. I may have my own personal views, but when I speak, I speak for the Cabinet and the government of the Bahamas.
"And so, the measured commentary that the government of the Bahamas has, is that we are going to be conservative and that we are going to be objective and open-minded in terms of our change and approach to marijuana."
Asked of his personal view on the topic, Dr Sands stated: "Minister Dames would have made some comments which I share and support that the idea of dramatic changes in the life of a young person because of possession of small quantities of marijuana, it is something that clearly we would not want to have life-altering implications."
However, he said even if that view is adopted nationally, it would not result in a complete turnabout on the issue in the coming years.
Mr Dames on Wednesday told the Nassau Guardian that he is a "firm believer" those persecuted for possession of small amounts of marijuana should not face a life of ridicule.
The Mount Moriah MP also insisted that before the country can look to decriminalisation, the nation must consider a series of complex issues, including the drug's medical implications.
To date, several US states have legalised marijuana for recreational and medical use.
Moreover, Canadian Prime Minister Justin Trudeau has vowed to legalise marijuana across Canada by July 2018.