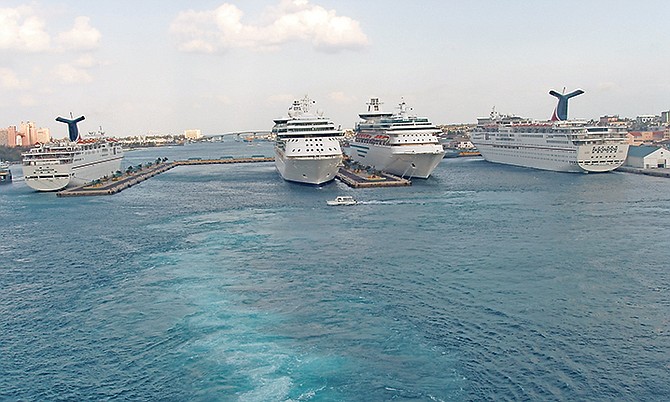 By NEIL HARTNELL
Tribune Business Editor
nhartnell@tribunemedia.net
Management of the Bahamas' main cruise port will be put out to bid by mid-December, with the facility needing "a substantial capital infusion in excess of $100 million".
Dionisio D'Aguilar, minister of tourism, confirmed to Tribune Business this week that the Government intends to issue a Request for Proposal (RFP) seeking private port operators to take over Prince George Wharf.
Reiterating the Minnis administration's belief that the port's operation/management was best left to the private sector, Mr D'Aguilar said significant investment was required for Nassau "to remain a major port destination in the Caribbean".
With the cruise lines "complaining incessantly" about Prince George Wharf's appearance and condition, the Minister added that "the status quo is not acceptable" as the Bahamas was failing to maximise the economic benefits from the annual four million-plus cruise passengers that pass through it.
Mr D'Aguilar, emphasised, though, that the Government wanted Bahamian involvement in any winning bid, and that it must facilitate entrepreneurial opportunities for locals to "spread the wealth".
"We have to go through an RFP, and we're in the process of developing that," he told Tribune Business. "It's very much in the preliminary stages, and I've been told never to set deadlines in the public sector, but hopefully by the middle of next month we will have it complete, prepared and issued.
"In our opinion the port of Nassau is sorely in need of a substantial upgrade and substantial financial infusion, and the Government is always struggling financially to complete the project to the point where it's done and looking great.
"The cruise companies complain incessantly about the appearance and management of the port, and the fact we have the Ministry of Transport running it is not the best of corporate structures to manage such an important entity."
Asked about the scale of investment required at Prince George Wharf, Mr D'Aguilar replied: "I'm sure it's in excess of $100 million.
"We've got to build another berth; I think there's room for one, and then create some exceptional retail options and probably put in attractions down there.
"This is the gateway for in excess of four million cruise passengers to our country. We have to take our time to get it right and create something that's memorable, so that when foreign visitors come through they say this is a pleasant, exceptional experience," the Minister continued.
"We're still very much in the formative stages and have to flesh it out, but it's my hope, my dream we get this done. It's going to have to change. The status quo is not acceptable.
"If we're going to remain a major port destination in the Caribbean, the time is right for substantial investment. I want Bahamian entrepreneurs to step forward and take advantage of the four million-plus passengers that come to Nassau."
Tribune Business revealed earlier this week that Global Port Holdings, the world's largest cruise port operator, had partnered with BISX-listed Arawak Port Development Company (APD) to submit an application for taking over Prince George Wharf's operation and management.
Mr D'Aguilar, while confirming the approach, and describing Global Port Holdings as a "strong contender', said the formal bid process would be open to all-comers as the Government sought the best, most competitive offer.
"Obviously they're a good candidate because, according to them, they're the largest operator of passenger ports in the world," the Minister said. "They're a contender, and are very interested in managing the Prince George dock.
"But we want to make sure it's a fair process, and want to involve as many Bahamians as possible. Anyone who's interested has to have a Bahamian component, so we have as much Bahamian participation as possible."
Mr D'Aguilar said the Minnis administration was seeking to pick up where the last FNM government left off when it came to creating economic ownership for Bahamians, and spreading wealth throughout the country. He disclosed that the Government had encouraged Global Port Holdings to find a Bahamian partner, hence the selection of APD.
He implied that the Government would follow the model established by the 2010 Commonwealth Brewery transaction, which required Heineken to offer a collective 25 per cent equity stake to Bahamians in return for approving its buy-out of the Finlayson family.
The Minister said there were "two approaches" to outsourcing operational control at Prince George Wharf - the 'NAD model', where the Government had hired a private sector manager to run Lynden Pindling International Airport (LPIA) but retained ownership of the asset, and the 'APD model' where the Government and private sector had teamed via a public-private partnership (PPP) to develop the Nassau Container Port.
"We're very much in 'see where this is going to go', but a private sector model with a private company managing the port will yield greater results for Bahamian businesses and entrepreneurs," Mr D'Aguilar told Tribune Business.
"It's a port we're not proud of. Based on the complaints we've received, it's an inhibitor to real growth. We need someone more nimble, proactive and well-funded. We want to optimise the retail options and opportunities for Bahamian entrepreneurs.
"The fact you have government in the middle of it kind of introduces a political element that is not ideal. Politicians should not be involved with what, and who, goes there. We need a private sector entity. It's what works best, what works well, and politicians should stay away from it," the Minister continued.
"Government should not be running this port. It's been proven time and time again that this is a model we should not be following. It needs to be run by a private sector entity, and we need to stop this model where we think the Government runs it better."
To support his position, Mr D'Aguilar pointed to state-owned enterprises such as Bahamas Power & Light (BPL), Bahamasair, Water & Sewerage Corporation, ZNS and the Hotel Corporation - all of whom "lose oodles of money and cost the taxpayer millions of dollars each year".
"This is not the model we should be following," he reiterated of Prince George Wharf. "But we need to involve as many Bahamian entrepreneurs as we can to spread the wealth, and impact as many Bahamians as we can."