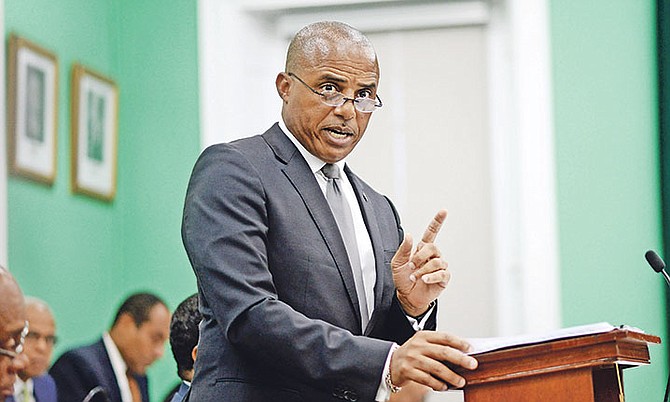 By AVA TURNQUEST
Tribune Chief Reporter
aturnquest@tribunemedia.net
MINISTER of National Security Marvin Dames yesterday expressed confidence in operations at the Royal Bahamas Defence Force (RBDF) as he moved to clarify several discrepancies in Auditor General Terrence Bastian's report into the law enforcement agency.
The report covers the period July 1, 2013 to June 30, 2015, and found that a 2014 procurement exercise posed a threat to the safety and security of Bahamian borders by awarding a $1.3 million contract to a home-based company that did not have the necessary approvals to import weapons from the commissioner of police.
"This is not a company that was pulled out of a hat," Mr Dames said when contacted yesterday.
"You just can't go to the US and say I want to buy a shipment of guns, it doesn't work that way. There are any number of external and internal layers that prevent anyone from just walking off the streets and saying give me a shipment of guns, I want to send it to another country. We're in the business of law enforcement, there are a lot of companies that we deal with that are subjected to the toughest scrutiny because of what they deal in."
Mr Dames said: "The commodore had said to me that the company, according to their records, is a legitimate company. It's not the first time they've done business with them.
"I'm not too concerned that it's a home-based business," he continued.
"Sometimes we have to be careful when we look at these reports that we don't draw a conclusion that the weapons are missing, the weapons are actually not missing."
The audit also noted the "online purchasing/courier service" had been inactive for more than four years before it renewed its business licence just four months before receiving Cabinet approval on their bid; and the Customs Department could not locate two shipment entries in December 2014, and June 2015.
Mr Dames told The Tribune yesterday he fully accepted the report, tabled in Parliament on Wednesday, however, he did not find cause for alarm over its findings after review with Commodore Tellis Bethel and Permanent Secretary Carl Smith.
He said many of its findings highlighted concerns leveled by the Minnis administration ahead of the 2017 general election, inclusive of improving morale, and the recruitment and training process; and ensuring the organisation was adequately funded.
While there were no concerns over the integrity of the 2014 procurement process, Mr Dames said he has ordered a full review of all companies currently engaged with his ministry to ensure full compliance will all laws and policies.
Mr Bastian's report also outlined concerns over irregularities in salary payments and promotions. The report noted that three people were promoted in 2014 who were not employees of the organisation. The report also said 16 people promoted were not on the promotion list.
Mr Dames chalked up those concerns to an "error in communication" between the department and the RBDF.
"We accept the report," he said, "an audit report is an audit report. It says something in there to do with promotions, that was addressed those people promoted were actually recommended for promotion.
"That is not the case," he said, "but what it (report) points to that there are inherent loopholes that we have to fix.
"Why these reports are good sometimes, it speaks to gaps in our processing, it speaks to failure to adhere to rules and regulations and it too speaks sometimes to weaknesses within our daily operation. That is why we as a government and our prime minister has called for the auditing in every government department, because we want to bring about a greater level of accountability, but also a greater level of professionalism, of transparency, and we want to ensure to that the people's funds are being spent responsibly and are being accounted for."