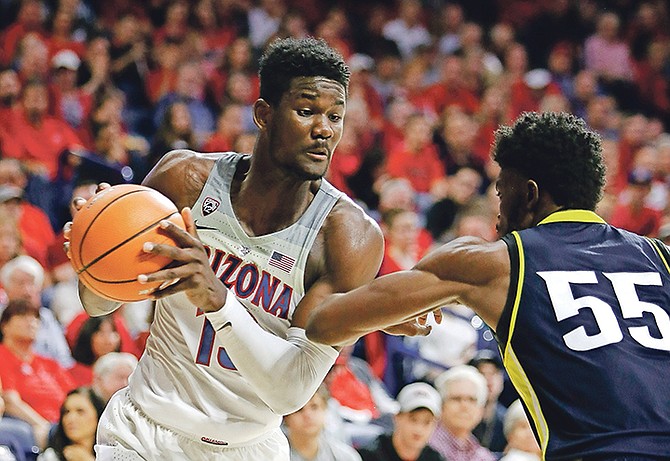 By RENALDO DORSETT
Tribune Sports Reporter
rdorsett@tribunemedia.net
NCAA Division I basketball tipped off Friday night and several Bahamian players were hit the floor for their respective programmes in divisions across the United States.
Some of the top performers included Arizona's Deandre Ayton, Lashann Higgs of the Texas Longhorns, Travis Munnings of the ULM Warhawks, Dwight Coleby of the of the Western Kentucky Hipptoppers and Tum Tum Nairn of the Michigan State Spartans.
Ayton finished with 19 points,12 rebounds and three blocks in his No.3 Arizona ranked Wildcats 101-67 win over the Northern Arizona Lumberjacks.
He became the fourth Wildcat to record a double-double by a freshman in his NCAA debut. The 19 points were the seventh-most by an Arizona freshman in his first NCAA game and the 12 rebounds the third-most. Ayton's three blocks were one fewer than the Arizona freshman debut record of four by Aaron Gordon in 2013.
Higgs was one point shy of her scoring career high in the No.2 Longhorns' 95-59 win over the Stetson Hatters yesterday.
The junior guard finished with 18 points on 7-9 shooting from the field in the opening day route.
Nairn and the No.2 ranked Spartans opened the season with a 98-66 win over the North Florida Ospreys. He finished with six points, four assists and two steals in 20 minutes off the bench.
Munnings' and Calvin Anderson's Warhawks suffered an 83-73 loss to the TCU Horned Frogs. Munnings finished with 13 points and nine rebounds while Anderson grab bed two rebounds in six minutes in his debut with the programme.
"We played very well for 37 minutes against a Top 35 team, but we didn't finish well the last three minutes. We gave up some layups and turned the ball over; we just didn't close well. It was a 5-point game with 2:08 left. With all that said, I'm pleased by a lot of things I saw tonight," ULM head coach Keith Richard said, "This wasn't a bad way to start the season. The game really turned in about a one-minute span. Our guys had no quit. We'll need that balanced scoring throughout the season. I really liked the way our guys competed. We gave up only nine offensive rebounds to a long, athletic front line. TCU shot a pretty good percentage tonight, so there weren't a ton of opportunities, but our guys really battled on the glass. "I felt like this team improved a lot during the preseason, but more importantly, we proved it to ourselves tonight."
Coleby made his debut with the Hilltoppers in an 85-80 loss to the Missouri State Bears. The graduate transfer finished with eight points and two blocked shots in 18 minutes.
Head Coach Yolette McPhee-McCuin and her Jacksonville Dolphins lost 64-44 to the NC State Wolfpack. Shalonda Neely played just four minutes.
The Dolphins entered halftime trailing by five, 29-24, before allowing a 17-4 run in the third quarter. The Wolfpack concluded the quarter with a 20-10 advantage, with 18 points coming from the paint.
"We lacked a lot of energy," said McPhee-McCuin. "Their post is really good, and I didn't think that we responded collectively to get stops. There was a lot of one-on-one [in the post], and when you play a team that dominates in the post like they are, you can't allow that to happen."
"The year we won the championship, we took a beating in the beginning because we were trying to figure it out. That's why we play these types of games - to get exposed and figure out our strengths and weaknesses."
Freshman forward Charles Bain finished with three points and one assist in a 95-64 loss for his Robert Morris Colonials against Ohio State. Arkansas State's Shaquillo Fritz finished with three rebounds and one blocked shot in a 77-63 loss to Evansville and Jaron Cornish has yet to make his debut but his Stony Brook team lost the season opener 76-64 to Maryland.
More like this story