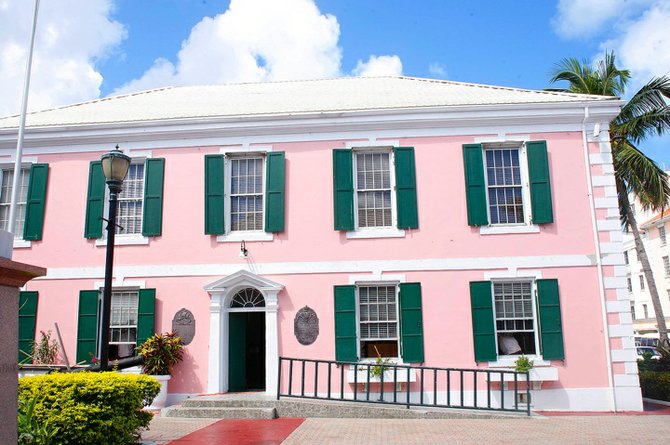 Reader poll
298 total votes.
By SANCHESKA DORSETT
Tribune Staff Reporter
sdorsett@tribunemedia.net
DEPUTY Prime Minister K Peter Turnquest yesterday said he believes "there will be an improvement to the country finances" in next year's budget cycle when members of Parliament are expected to receive pay raises. 
Asked if he supported the proposed raise Mr Turnquest avoided directly answering the question but said: "I support fiscal responsibility, which cuts both ways."
When pressed for further comment, he said he believes in "balance" and "give and take and results should be rewarded."
The Minnis administration has been the target of fierce criticism since Prime Minister Dr Hubert Minnis announced two weeks ago that in the next budget he would present an increase for MPs who currently are paid $28,000 a year.
His position is a turnabout from 2014 when, in response to the Christie administration's desire for the same thing, he said: "As long as I am leader of this country, the FNM would not support any pay increase with all the pain and suffering that is going on in this country."
Since 2014, economic growth remains slow and the Minnis administration frequently laments the state of the country's finances and the unemployment rate remains high.
In 2014, the Christie administration's establishment of a parliamentary select committee to consider a salary increase for parliamentarians was widely criticised. It came mid-term as that administration's popularity began to wane; the plan was ultimately scratched and MPs' salaries remained the same.
At the time, Dr Minnis told the Nassau Guardian: "The FNM has not agreed to any salary increase."
Several FNM MP's have publicly voiced their support for the increases including Works Minister Desmond Bannister who told The Nassau Guardian last week a review of MPs' salaries is long overdue. He applauded the prime minister for addressing the controversial issue.
Member of Parliament for Bains and Grants Town Travis Robinson, the youngest parliamentarian, told The Tribune a salary increase would help deter corruption as he compared current salaries for MPs to what janitors make. However, he told the Nassau Guardian last week he would not support a raise at the next budget if the government has not yet fulfilled its campaign promises to institute a tax-free zone in Over-the-Hill communities and eliminate value-added tax on breadbasket items and health services. 
The Progressive Liberal Party (PLP) also said they do not support the planned pay increases. PLP Leader Phillip "Brave" Davis said the "personal needs of well off politicians" should not come before assisting poor Bahamians.
PLP Deputy Leader Chester Cooper also said he "categorically" does not support a raise for MPs and vowed to "vote no" when the matter is brought to the House of Assembly for debate.
In a statement, Mr Davis said if Dr Minnis believes parliamentarians cannot live on the salaries they are currently making, "he should place himself in the shoes of the thousands of Bahamians who live from hand to mouth, including those fired by his government."
But last week, following Dr Minnis' announcement, Mr Davis told The Tribune a salary increase for MPs is "overdue." He said Dr Minnis should consider recommendations the former administration made rather than establish an entirely new committee to consider the matter.
And during the Christie administration's last term, Mr Davis, then deputy prime minister, was on board with a pay increase for politicians, insinuating it would curtail corruption.
In May 2014, when the former administration considered the matter, Mr Davis said: "(It would) remove the temptation for politicians to do things that are not right. Because if they (MPs) are earning a living by doing this, then there would be no need for them to do anything else, I think that's what the Bahamian public has to understand."