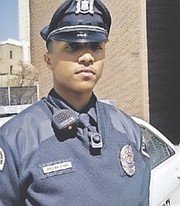 By RASHAD ROLLE
Tribune Staff Reporter
rrolle@tribunemedia.net
Royal Bahamas Police Force (RBPF) is launching a programme to outfit police officers of its Mobile Division with body cameras.
Police Commissioner Anthony Ferguson said the RBPF will be testing the technology for the next "several weeks".
The cost of the programme is unclear. Commissioner Ferguson acknowledged key elements, such as how long data will be stored, will be subject to policy decisions. 
The move was welcomed yesterday by the Police Staff Association, with its chairman Sergeant Sonny Miller saying officers are excited to have the technology which is used by many other forces around the world.
"The commissioner has the authority to use whatever means is necessary for the smooth and efficient running of the police force," Commissioner Ferguson told The Tribune.
In an earlier interview with ZNS over the weekend, he acknowledged complaints against police and said: "We recognise that from time to time, as officers go out on the road they interact with people and we want to be transparent and fair to people. We always like to be a professional organisation and we believe this new technology will enhance public confidence, it will enhance the professionalism of officers in an effort to bring good policing to our communities. We hope it will bring us in line with modern technology used around the world."
The technology will be tested in New Providence, Grand Bahama and Abaco.
The technology is such, the police chief said, that officers wearing them will not be able to alter the images.
"The images are downloaded at a different location," he said.
As for storage, data will be downloaded to servers.
Use of body cameras became a big issue in the United States following a number of fatal civilian interactions with police officers over the years.
Officials hope the technology will inspire professionalism on all parts in a police interaction.
However, at least one significant study on the use of the technology indicate it does little to curtail unwanted police behaviour.
Under Commissioner Ferguson's predecessor, Ellison Greenslade, 73 officers were discharged for misconduct. 
Thirteen people were dismissed from the RBPF in 2016 for misconduct and betrayal of the public trust. Public complaints against police officers last year included 101 complaints of assault, up from 86 in 2015. They also included 15 complaints of unethical behaviour, 12 of missing property, five of extortion, seven of unlawful arrest, four of threats of harm and five of causing harm.
One hundred and one of the complaints resulted in complete investigations in some form, statistics released in January show.
However, in 37 of the cases, officials found the complaints unsubstantiated while in a combined total of 11 cases officials found the complaints either unfounded or lacking sufficient evidence.
In only one case was an officer fired as consequence of a complaint.
In six cases, it was recommended the complainant be reimbursed and in nine cases it was recommended the complaint be taken before a court of enquiry and a tribunal, indicating a serious offence had been alleged.
In 18 cases, the complainant withdrew the complaint.