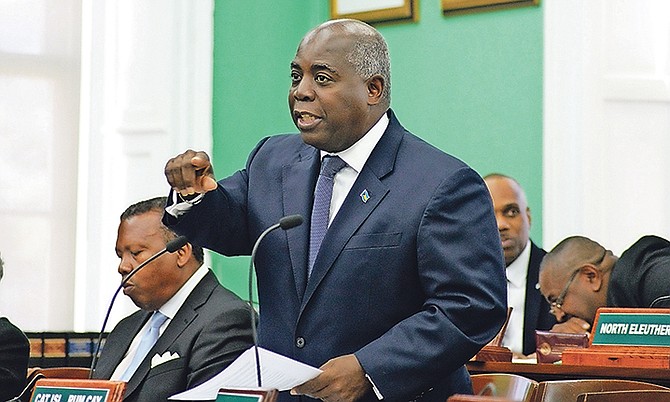 By RASHAD ROLLE
Tribune Staff Reporter
rrolle@tribunemedia.net
PROGRESSIVE Liberal Party (PLP) Leader Philip "Brave" Davis dismissed as "much ado about nothing" revelations his brother's company was paid in full for two Bahamas Electricity Corporation (BEC) contracts he ordered cancelled.
The Nassau Guardian reported Friday that by the time Ministry of Works Permanent Secretary Colin Higgs had ordered the cancellation of two contracts for AL D's Construction and Roofing - a company owned by Mr Davis brother - about $90,000 had already been paid out. And after the permanent secretary's instructions were issued, almost $70,000 was further paid out, indicating Mr Davis' brother received virtually the entire value for his contracts despite Mr Davis' intervention.  
The former deputy prime minister and minister of works with responsibility for BEC repeated yesterday the contracts were cancelled, recalling his brother "was very upset" at the time.
"I knew (my instructions) were carried out because (my brother) felt aggrieved by it," Mr Davis told The Tribune.
"From what I heard back then, it was in fact cancelled and I knew because I had to face my brother and other siblings. They felt, 'why couldn't he do it? You had nothing to do with this; there was an open bid.' They were concerned by what that meant but I explained that it's not that you can't get a contract from the government, just not from my ministry."
Mr Davis said revelations his brother was purportedly paid in full in connection with the contracts "misses the point because the fact is the (Ernst & Young audit) was incomplete and in error."
"Once the issuance of a contract to my brother came to my attention," Mr Davis reiterated, "I sought to get to the bottom of it because in this political atmosphere and with the standard to which PLP is held, it's a different standard than for others and I don't want to have to respond to my brother getting a contract even though I had nothing to do with it. The chairman (at the time, Leslie Miller) was right in corporate governance to bring to my attention that my brother ought not to be disqualified because of his relationship to me. But I made it clear that while it may be okay for a contract to be given from the government, it shouldn't be given from an entity under my portfolio. I gave verbal instructions to cancel it and to my permanent secretary to ensure that my instructions were carried out."
Mr Davis did not respond to questions about what the Ernst & Young audit revealed about Mr Miller's alleged "irregular" conduct as chairman of BEC, now called Bahamas Power & Light. Mr Miller, however, has denied the allegations. 
According to the EY audit, Mr Miller directed BEC officials in 2012 to give two contracts to AL D's Construction & Roofing even though the business was not the preferred bidder in the tender process.
"Both contracts were awarded to this vendor for a higher value than the recommended bidder," the audit report said.
"Supporting documentation in connection with these transactions include internal memorandums from Kevin Basden and Lana Mingo requesting Mr Miller's approval to award the contracts to D N Construction Co and Dudley Smith Construction Company," the audit, tabled in the House of Assembly last Wednesday, noted.
"A handwritten response from Mr Miller is included on the memorandums stating that the board requested for the contracts to be awarded to AL D's Construction & Roofing.
"For one of the contracts, the recommended bidder price was $118,816 and the contract was awarded to ALD's Construction & Roofing for $119,000.
"The recommended price for the second contract was $36,400 and the contract was awarded to ALD's Construction & Roofing for $41,417.
"There was also another company lower than ALD's Construction & Roofing at $40,260," the report noted.
The EY audit was leaked to The Tribune ahead of it being tabled in Parliament. Last Wednesday, Mr Davis took issue with The Tribune's article because the EY audit did not include information about his orders to have his sibling's contract cancelled.
More like this story