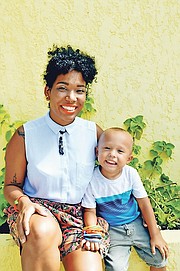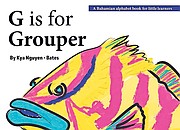 By ALESHA CADET
Tribune Features Reporter
acadet@tribunemedia.net
Graphic designers create visual concepts that inspire and inform. With their work, they engage in a process of visual communication using various forms of typography, photography and illustration. It is a calling that not only requires hard work and technical skills, but also raw talent. A talent, Kya Nguyen-Bates did not know she possessed until she stumbled upon a graphic design job quite by accident.
Now, she not only is crafting a successful career based on her graphic design skills, but Kya is also about to release a children's book with illustrations she created.
Kya's first foray into the field of graphic design came about a few years ago as she applying for a position as a jewellery designer. She was unexpectedly told that the job description would also cover graphics and marketing - which turned out to be "the understatement of the year", she said.
"The work was very intensive for someone who at the time only knew the basics of Photoshop and not much else, but luckily for me I enjoyed and embraced the challenge. Thankfully, a lot of the skills I utilised in fashion carried over into my new graphic design position such as colour theory, concept creation, and even simply having 'the eye'. I now primarily market myself as a graphic designer as I feel it captures the widest aspect of what I do," said Kya.
Kya has designed jewellery for retailers such as Hot Topic and Spencer's Gifts, and she currently offers flyer designs, social media marketing, and catalogue/annual report creation.
"The other day I had someone approach me who wanted my help planning an art event. That is more my speed as I enjoy conceptualisation and planning, so my services really depend on the project. So far, there has been positive feedback from the persons to whom I have shown my portfolio," she said.
Kya acknowledged the great teachers she encountered while studying at the Bahamas Technical and Vocational Institute and wants to encourage all Bahamians to follow their dreams. She said we live in an age where resources are readily available via the internet right here in the Bahamas.
"I encourage everybody to find that thing they love to do, and devote the time to learn it; you will not only surprise others, but yourself as well. What I like most about my profession is the opportunity to create varying themes or moods depending on the event or product I am designing or conceptualising. I like the variety of it all," said Kya.
Although she has not officially set up a company for her graphic design and creative services, going forward Kya said her goal is to continue to hone her design and marketing skills by working with select local businesses and eventually becoming the creative director of a company whose message she cares about.
"For the remainder of the year I'm continuing to work on my first children's book, 'G is for Grouper'. Also, I will be doing some work with the Euphoria Madness Bahamas Carnival team for the remainder of 2017 and into the New Year. So that's pretty exciting," said Kya.