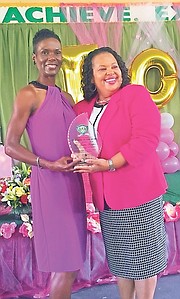 By BRENT STUBBS
Senior Sports Reporter
bstubbs@tribunemedia.net
ALTHOUGH she was singled out as the Teacher of the Year for 2016-18 at Cleveland Eneas Primary School, principal Patrice Bodie said she doesn't think she can find a more dedicated and devoted physical education teacher than Mariska Thompson.
During a special ceremony at the school, Thompson was honoured by the faculty, staff and students. She also had praises heaped upon her by her former coach at Government High School, Leroy Thompson.
Thompson, listed as Thompson's adopted father, gave the keynote address as he patterned her journey to a person trying to climb to the top and never giving up.
Among those in attendance were Belinda Wilson, president of the Bahamas Union of Teachers as well as "Golden Girls" Pauline Davis, Eldece Clarke and Tonique Williams, all of whom were former teammates of Thompson when she competed in track and field.
"We are just delighted at Cleveland Eneas to celebrate our Teacher of the Year, Mrs Mariska Thompson, who is a true leader of excellence in every sense of the word," Bodie said.
"Excellence is her lifestyle, not just a word that is thrown around loosely when it comes to her. Everything she does when she puts her mind to it, it's of excellence. She's a dream employee to have on your staff. She is second to none."
Bodie said although she worked with another exceptional PE teacher in Gail Barrow before coming to Cleveland Eneas, Thompson is "indeed the best physical education teacher in the Bahamas and she stands shoulders above the rest."
In his address, Thompson took his audience down memory lane as he made reference to in bringing the point home about Thompson.
"I am proud if her, but I think it is something that should happen more often because Physical Education teachers work very hard and they are often overlooked," said Thompson, who stepped in as Thompson's adopted father after her father died and her mother had gone to England to complete her studies.
"I think this is a great accomplishment, not just for her, but for Physical Education teachers throughout the Bahamas."
Davis said it was a beautiful ceremony for a well-deserved person.
"Mariska and I go way back. We were in school together at Government High and she is a very hard worker who is dedicated and passionate about her students and her family," Davis said.
"So I am not surprised that she is Teacher of the Year because as a little girl, she showed that passion, dedication, discipline and determination to do what she is doing now."
As a long-time friend and former team-mate too, Clarke said she would not have missed the opportunity to celebrate with Thompson for anything in the world.
"I'm really excited and happy for Mariska," she said. "Both of us were junior athletes and went to Hampton University together. We were like sisters. We shared a lot of moments together and she truly deserve this honor.
"Let's not forget the things she did when she came to this school. This school was nowhere coming on top of the competition and now they are one of the top schools in the country. So her work has really spoken for her, not only here at school, but Church. So she deserves this recognition."
A number of special items were performed by the students at Cleveland Eneas during the ceremony and Thompson was presented with a plaque, her flowers and some gifts before she was whisked away in the limousine that brought her to school to a private luncheon with her collegiate.
"I'm really blown away," said Thompson, who shared the moment with her husband Renatus Thompson. "I'm thankful to the almighty God for allowing me to see this day.
"Words cannot express how I feel right now. I'm thankful, thankful. That's all I can say. I'm one of those persons who just do what I have to do and whatever happens, happen. I just thank God for the passion to do what I do."
She thanked Bodie, the faculty and staff, students, especially those on the athletic team, and the parents for helping to make her tenure so far at Cleveland Eneas a successful one.
Thompson was a former 400/800m specialist who represented the country at the Carifta Games, the Junior Central American and Caribbean and the Jr Pan American Games while a student at Government High and Hampton University.
Upon graduation, she began her teaching career at Aquinas College for one year before she moved to Our Lady's Catholic School where she worked for ten years, earning the Teacher if the Year in 2003.
In 2004, she was posted at Cleveland Eneas as a trained teacher and during her 13 years at the school, she has guided their track and field team to five public schools track and field championships, three of which were consecutive.
Additionally, she has branched out and having some success as well with their girls' soccer team, reaching the final for the past two years.
As a devote Christian, Thompson has also carried that momentum over to her Church where she has helped the Most Holy Trinity Anglican to win two championship titles since taking over as head coach in 2011.