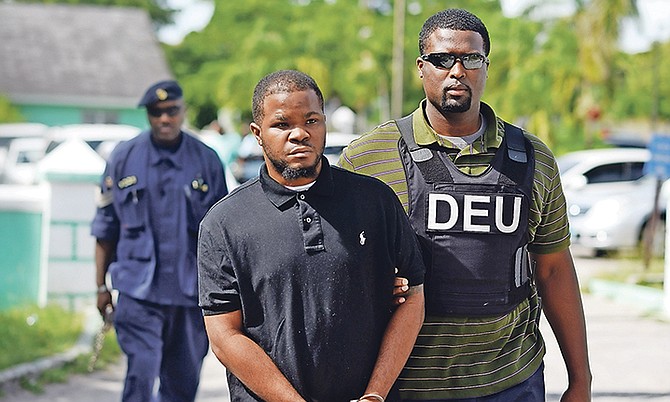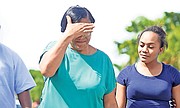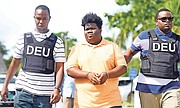 By NICO SCAVELLA
Tribune Staff Reporter
nscavella@tribunemedia.net
A 27-YEAR-OLD man was sentenced to three years in prison yesterday after pleading guilty to three firearm related charges and one drug related charge stemming from a drug and gun seizure in the Quarry Mission Road area last week.
Chief Magistrate Joyann Ferguson-Pratt further ordered Valentino Pratt, of Gibbs Corner, pay a $5,000 fine by the conclusion of his three-year prison term or risk facing an additional 12 months of incarceration at the Fox Hill jail.
Pratt, along with his 57-year-old mother, Georgimae Gardiner, his 21-year-old brother Livingston Pratt, and his girlfriend Chassidy Scott, were all arraigned on one count each of possession of an unlicenced firearm, possession of ammunition, possession of ammunition with intent to supply, and possession of dangerous drugs with intent to supply.
Gardiner, Scott, and Livingston each pleaded not guilty to the charges. However, the Crown said based on Valentino Pratt's guilty pleas, it would withdraw the four charges against them.
Their arraignments stem from a seizure that took place on Thursday last week.
According to reports, shortly after 12 noon on the day in question, Drug Enforcement Unit officers executed a search warrant on a residence at Gibbs Lane in New Providence and found one black Sky CPX handgun, 53 rounds of ammunition and a quantity of marijuana.
According to the prosecutor, the 14.78 ounces of marijuana, with a street value of $1,120, were found in a dresser drawer in 24 silver foil wraps, which were in turn concealed in a clear, plastic bag.
In a closet in the same room, and underneath a heap of clothes, the prosecutor said, officers also discovered a dark-coloured backpack containing a taped package which held 50 live rounds of 9mm ammunition.
A further search of a dresser drawer in a room just opposite the first one revealed a black Sky CPX handgun, and in the magazine of that handgun were three rounds of live 9mm ammunition.
As a result of the various discoveries, all of the occupants of the house were taken into custody.
Valentino Pratt accepted the summary of the facts as read by the prosecution.
In making a plea of mitigation, his attorney, Keith Bell subsequently pleaded for lenience and mercy on his client's behalf, noting the gun in question was purchased by his client after falling prey to two armed robberies in the past.
The marijuana, Mr Bell said, was used for personal consumption by his client.
Mr Bell further submitted his client had no previous convictions, was gainfully employed at Albany as well as at a restaurant, and contributes to his household via his employment. Mr Bell further noted his client grew up in a churchgoing family and attends Evangelistic Temple.
However, the chief magistrate said while it is "commendable" he has maintained a clean police record, and that he was "a real man" for owning up to the crimes and thus sparing his family and girlfriend the trouble of going through trial, the nature of his offences are a part of what she called a "very serious issue" in The Bahamas.
She subsequently sentenced him to three years in prison in addition to a fine of $3,500 for count one, two years for count two, three years for count three and two years and an additional $1,500 fine for count four, with the sentences to run concurrently.