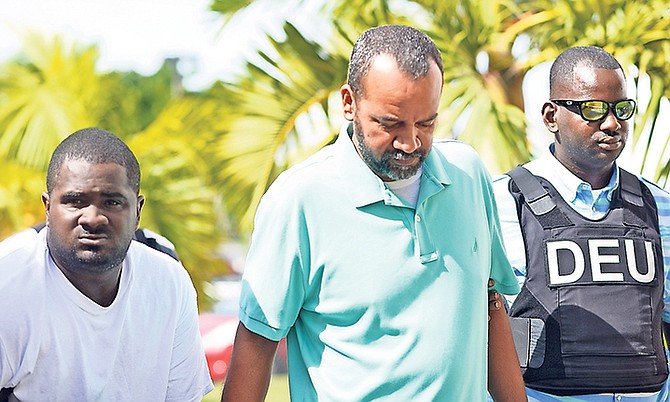 By NICO SCAVELLA
Tribune Staff Reporter
nscavella@tribunemedia.net
TWO Abaco natives were arraigned in Magistrates Court yesterday in connection with the seizure of more than 400 pounds of marijuana near the Exumas last week, when it was alleged they assaulted several police officers with a boat.
Bartholomew Pinder, 38, and 26-year-old Billydee Robinson Jr, both of Sandy Point, stood before magistrate Derence Rolle-Davis faced with three drug related charges and one assault charge stemming from the November 8 incident.
It is alleged on the day in question near Highbourn's Cay, the two were found in possession of dangerous drugs, namely marijuana, with the intent to supply, and that between November 7 and 8 they conspired to possess those drugs with the intent to supply.
It is further alleged on the day in question, they assaulted Assistant Superintendent Henry Haley, Detective Constable 3543 McKenzie, Detective Corporal 3636 Rolle, and Corporal 3063 Ford with a boat.
According to initial reports, around 3am a team of officers from the Drug Enforcement Unit (DEU) and the Police Marine Support Unit, assisted by US Drug Enforcement agents, spotted a go-fast vessel in the area of Highbourn's Cay with two Bahamian men on board.
A chase ensued, during which packages were seen being thrown into the water. The vessel was later stopped and two suspects arrested. The officers were also able to retrieve six bales of marijuana from the water.
Some 433 lbs of marijuana were seized as a result of the incident, according to police.
Both Pinder and Robinson pleaded not guilty to the charges.
The matter was subsequently adjourned to January 22, 23 and 24 for trial, and the two men were remanded into custody until that time.
More like this story