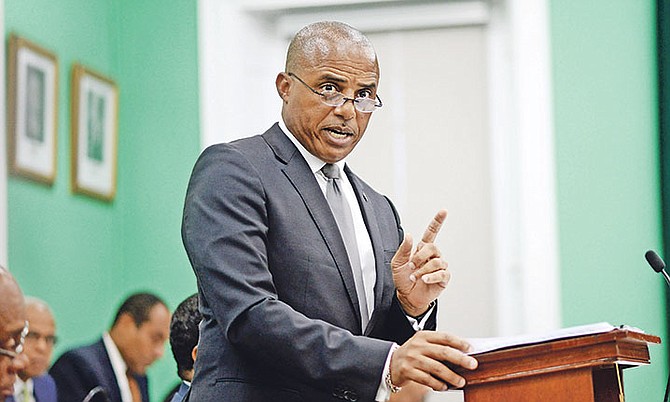 By AVA TURNQUEST
Tribune Chief Reporter
aturnquest@tribunemedia.net
NATIONAL Security Minister Marvin Dames stuck to his guns yesterday as he rebuffed lingering concerns over revelations the Royal Bahamas Defence Force (RBDF) sourced weapons and military items from a home-based business.
Mr Dames said while he understood laymen concerns over the findings of a recently tabled audit report, his assurances on the matter were rooted in fact.
The audit report covers the period July 1, 2013, to June 30, 2015, and found that a 2014 procurement exercise posed a threat to the safety and security of Bahamian borders by awarding a $1.3m contract to a home-based company that did not have the necessary approvals to import weapons from the commissioner of police.
The audit, tabled in the House of Assembly last week, also noted the "online purchasing/courier service" had been inactive for more than four years before it renewed its business licence just four months before receiving Cabinet approval on its bid; and the Customs Department could not locate two shipment entries in December 2014, and June 2015.
In an interview on Tuesday, Mr Dames said the missing procedural step concerning permissions from the police commissioner did not have much import on the validity of the process or the legitimacy of the company. He noted the report's findings exposed much of what the Minnis administration had already known - that processes needed to be reviewed and strengthened.
"Many people are not aware, who are not close to the situation," he said, "you can't just walk in or travel to the US and say I want to order some firearms and ship it to The Bahamas. Most countries who are in the business of selling weapons, there are very stringent national laws and policies and international guidelines. Not anyone can enter business and be approved as an authorised firearms dealer."
He continued: "In addition to that, we also have guidelines here that oversee the importation of firearms into The Bahamas. Now from a processes standpoint, the auditor general has said that there was not a letter from the police, so that's a process. We said since coming into office that we will take measures to tighten up on the importation of weapons by agencies and to consolidate purchase to save monies and also manage the importations of weapons coming into this country.
"That particular sale, while they talk about approval of commissioner, there was nothing outside of that that will cause us great concern. But we will review all of these processes with a view to ensuring that we improve our purchasing power for weapons and other armaments, but that we also manage the process much better.
"We talked about that before the auditor general's report, we've been in discussions with all of these agencies."
This week, former Assistant Commissioner Paul Thompson raised concerns over the audit's findings, telling The Tribune he felt assurances offered by Mr Dames last week were "premature".
Mr Thompson insisted concerns raised by Auditor General Terrence Bastian over weapons procurement were legitimate and could not be brushed off until a full audit of inventory is conducted and cross referenced with illegal guns found in the country.
Mr Thompson said he found both the report's findings and Mr Dames' response "bothersome".
To this Mr Dames said: "When I speak, I speak on a position of knowledge, right? I don't speak from the cuff, this report was completed in 2015, it had already been released. So I'm not speaking in a response to a newspaper article or something else. I'm speaking from a position of knowledge and facts, alright."