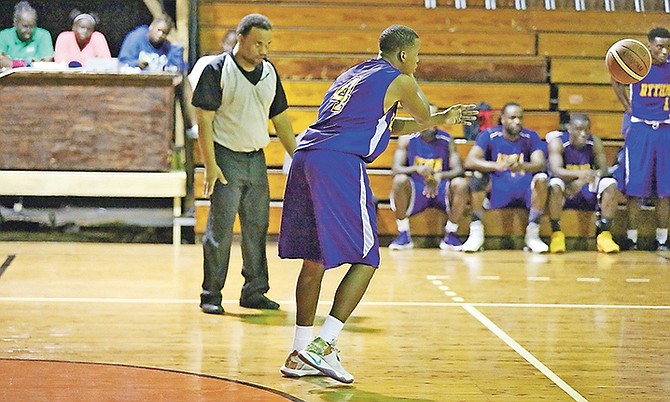 THE Eagles Nest and the JD's Seafood Shockers emerged victorious in the New Providence Basketball Association's double header at the AF Adderley Gymnasium on Wednesday night.
In the men's division II opener, the Eagles Nest blasted the Rockets 87-79 and the Shockers stunned the Leno Regulators 76-58.
• Here's a summary:
Eagles Nest 87,
Rockets 79
Troy Tembley, playing 34 minutes and 50 seconds, scored 16 points, shooting 6-for-7 from the field and 4-for-11 from the free throw line, to go along with his 14 rebounds and two blocked shots to lead their offensive attack.
Recarno Nixon Jr had 13 points, Johncey Augustin had 10 points and Tyrell Butler came off the bench to contribute 10 points as well.
In 26.43 minutes, Bertrum Minns pumped in a game high 20 points, connecting on 6-for-14 from the field and 8-for-16 from the foul line, to lead the losers. He also had 12 rebounds, four assists and three steals. Leon Rahming added 15 points with four rebounds and three steals, Travis Rolle had 13 points and six rebounds and Calvin Jones helped out with 13 points as well.
Shockers 76,
Regulators 58
William Rigby led a balanced scoring attack by scoring 16 points on 5-for-13 shooting from the field, 2-for-3 from behind the three-point arch and 6-for-9 from the free throw line. He also had eight rebounds, three steals, two assists and a blocked shot.
Shakwon Lewis had 14 points with six assists, four rebounds and two steals, Lamont Armaly had 12 points, seven assists and three rebounds and Henderson Curry came off the bench and added 11 points with three assists, two rebounds and as many steals.
In a losing effort, Kenneth Pratt had a game high 22 points in 28:09 minutes, shooting 10-for-20 from the field and 2-for-3 from the charity stripe. He also pulled down 10 rebounds.
Their next best scorer was Renardo Baillou with seven points and nine rebounds.
The NPBA is all set to be back in action tonight with another double header at the AF Adderley Gymnasium. In the division II opener, the Elite Basketball Club will take on the Triple K Stampers at 7pm and the Rhythm Rebels will face the Vitamalt Chargers in the division one feature encounter.