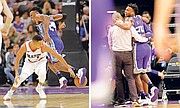 By RENALDO DORSETT
Tribune Sports Reporter
rdorsett@tribunemedia.net
Buddy Hield missed his second consecutive game after he was ruled out of last night's matchup against the Denver Nuggets with an ankle injury.
Hield was injured last Friday in the fourth quarter of the Sacramento Kings' 86-82 win over the Portland Trailblazers at the Golden 1 Center in Sacramento, California.
He is officially listed as day-to-day on the Kings' latest edition of the injury report and no timetable has been set for his return.
Hield is second on the Kings in scoring at 11.6 points per game. He was injured while dribbling through defenders and rolled his ankle.
The second year guard has been relatively free for much of his career thus far since his freshman year at Oklahoma. As a freshman, Hield suffered a broken bone in his foot in February and was expected to miss up to four to six weeks. He stepped awkwardly on a TCU defender's foot while chasing a loose ball and had to be helped toward the sidelines. After the game it was discovered that he sustained a fractured fifth metatarsal in his right foot and underwent surgery. He missed just five games and returned on March 6 against West Virginia.
Since Kings' head coach Dave Joerger moved Hield to the bench, his numbers improved across the board and averaged 12.5 points and 4.9 rebounds per game while shooting 48 per cent from the field and 56 per cent from three. His bench production was highlighted by a season-high 21 points to lead the Kings to a 94-86 win over the Oklahoma City Thunder at the Golden 1 Center on November 7.
It was easily Hield's best shooting performance of the season, 7-9 from the field, a perfect 4-4 from three-point range and 3-3 from the free throw line in a season-high 28 minutes.
Vlade Divac, Kings general manager, announced that the team exercised its 2018-19 option on Hield earlier this month.
"I've been trying to get a rhythm all season, thank God I finally got a few to fall down. I'm trusting what I do, trusting what got me here and it was good to see the ball go down. The results haven't been showing in games but we have had some great practices and we just have to keep trusting what coach wants us to do," Hield said following the win in Oklahoma City.
Rookie Bogdan Bogdanovic and veteran Garrett Temple are expected to fill the scoring void in Hield's absence.