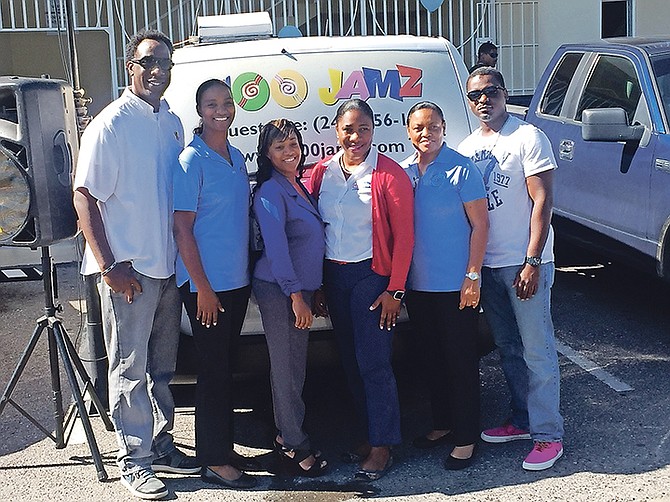 By FELICITY INGRAHAM
The Diabetic Research Institute hosted a successful World Diabetes Day 2017 at its Montrose Avenue office on November 14. Diabetics came out and brought family and friends to be tested and screened for diabetes. Nurses also checked blood pressure, weighed patients, and gave health advice before handing out gift bags, fruits and other refreshments.
Yvonne Harris, Coral Dean, Abigail Ferguson, Roxanne Shawsmith and other Diabetic Research Institute (DRI) members and health professionals worked together to meet and greet guests who trekked in and out all day for the full slate of activities.
Dr Homer Bloomfield addressed the theme for World Diabetes Day 2017 - "Women and Diabetes - Our Right to a Healthy Future".
There are currently over 199 million women living with diabetes worldwide and this total is projected to increase to 313 million by 2040. Gender roles and power dynamics influence vulnerability to diabetes, affect access to health services and health-seeking behaviour for women, and amplify the impact of diabetes on women.
Assistant Professor of Psychology at the University of the Bahamas Dr Richard Adderley spoke on how high school students in the Bahamas perceive diabetes - a report he prepared along with UB student Jamal Trent Bingham. He talked about the students' own call for there to me more education about the prevention of non-communicable diseases in the schools. Dr Adderley found that many students know a close relative or friend with diabetes, yet were not knowledgeable enough about the condition.
Dr Danny Johnson gave a talk about his LEAP programme, in which he and other podiatrists from around the world are working through his Foot & Ankle International Institute to decrease the amount of foot amputations in the Bahamas due to diabetes by 90 per cent.
Commonwealth Drugs and Medical Supplies representatives also presented during World Diabetes Day. Anna Maria Roberts, ethical manager, led a "swap out" campaign, where diabetics could bring in their old glucometer and receive a new Medisign glucometer, along with a pack of free test strips.
"CDM offers care for diabetics in the form of tools they need as well as providing them with the knowledge they need," she said.
"We give tips that make diabetics lives easier. For example, knowing that four grammes of sugar on the back of a juice can means one teaspoon of sugar."
The company also promoted its C-Fizz 100mg vitamin C product in a newly-introduced flavour - coconut pineapple. Attendees received free C-Fizz packs and were told to look in the stores for other flavours such as pomegranate. The product is specially designed by a Bahamian company for the local market.
More like this story