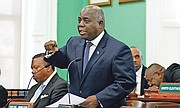 By KHRISNA RUSSELL
Deputy Chief Reporter
krussell@tribunemedia.net
DESPITE changing his own position on a proposed raise for members of Parliament, Progressive Liberal Party Leader Philip "Brave" Davis yesterday criticised Prime Minister Dr Hubert Minnis for his change of position, saying Dr Minnis' new tone seemed "convenient" and not grounded in principle.
Mr Davis said the prime minister is correct in saying people have the right to change their minds, but the context of the change, taking into account its possible impact, is important to consider.
"First of all, he's right to say that persons do have the right to change their minds," Mr Davis told reporters at the PLP's headquarters on Farrington Road yesterday.
"But what is important is the context in which minds are being changed. You're changing your mind and the impact it could have and the consequences for the change of minds.
"And again, you ought to have some good reason grounded in principle and not convenience.
"His change of mind or heart seemed to be more convenient than principles when you look at his reasoning and I think therein lies the challenge when you have a leader that is more concerned about convenience than principle and that is what I read in his change of heart."
The Official Opposition leader was speaking to Dr Minnis' comments reported by The Tribune on Monday, when he said: "If I am headed out east then somewhere I decide to turn around and head out west, am I wrong?"
Dr Minnis made the statement when asked about his turnabout from 2014, when he was against salary increases for MPs as proposed by the Christie administration.
At the time, Dr Minnis said if he were leader, the Free National Movement would not support any pay increase considering all the pain and suffering in the country.
Mr Davis has also changed his tone on this issue. Following the prime minister's announcement earlier this month of his intention to give MPs more money in the next budget cycle, Mr Davis told this newspaper the move was "overdue".
He said Dr Minnis should consider recommendations the former administration made rather than establish an entirely new committee to consider the matter.
But the very next day, Mr Davis said his party does not support the prime minister's proposition, stressing the personal needs of well off politicians should not come before assisting poor Bahamians.
During the Christie administration's last term, Mr Davis, then deputy prime minister was on board with a pay increase for politicians, insinuating it would curtail corruption.
In May 2014, when the former administration considered the matter, Mr Davis said: "(It would) remove the temptation for politicians to do things that are not right. Because if they (MPs) are earning a living by doing this, then there would be no need for them to do anything else, I think that's what the Bahamian public has to understand."
The Minnis administration has been criticised heavily since the prime minister announced the proposal.
Last week, Dr Minnis' Press Secretary Anthony Newbold seemed to walk back the comment, saying a raise is dependent on an economic upturn.
Absent from this debate over the last several weeks was further explanation from Dr Minnis, who was questioned about his proposal on Friday night on the sidelines of the opening of the SLS Hotel at Baha Mar.
He said Friday: "Listen to me carefully. We look at things globally. We will have committees that will review the entire public service, public service reform. A part of it will look at the salary scales of each minister, [this is] members of Parliament, prime ministers, corporations, etc.
"It is unfair and you don't carry what I [don't] want you to carry. Carry this. It is unfair for some individuals to be [paid] half a million dollars a year and others getting paid $18,000. It's unfair. That has to be corrected and that is why you need public service reform looking at the dire structure and correcting it so that individuals will receive what is due.
"At the same time, in correcting [the sector] you look at the placement of individuals to ensure that they are placed in the right position because individuals' performance are bad, not because they don't want to work but they are misplaced. So that is all a part of public reformation."
Dr Minnis has painted the intended increase as a sensible development, especially in view of the substantial salaries the former Christie administration paid some contract workers in the past five years.