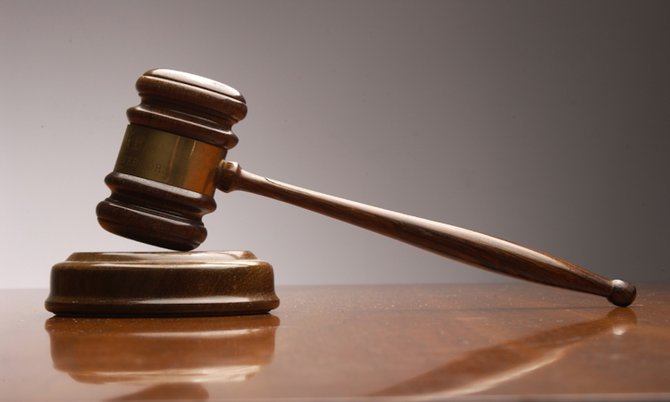 By DENISE MAYCOCK
Tribune Freeport Reporter
dmaycock@tribunemedia.net
CROWN witness Virgil Hall continued his testimony in the Freeport Supreme Court on Tuesday, identifying himself as one of the four masked men seen in surveillance video footage of the armed robbery and murder of a couple in Deadman's Reef on the night of September 12, 2015.
He claimed the other men in the video were co-accused Allan Alcime, Paul Belizaire also known as "PJ," and Devaughn Hall, known as "Short Man." It is alleged Kevin Dames, the fifth co-accused, drove them to Deadman's Reef on the night in question.
Belizaire, Devaughn Hall and Dames are on trial for armed robbery and the murder of Barry and Sheena Johnson, who were found shot dead at their triplex apartment in Deadman's Reef on the morning of September 13, 2015. The Johnsons' GMC truck and keys had been stolen.

Alcime and Virgil Hall were initially arrested with the three men, but accepted plea deals in exchange to testify for the Crown, which later withdrew the murder charges against them. Both pleaded guilty to armed robbery and are serving time in prison.
During cross-examination yesterday Virgil Hall said he cooperated with police after he was arrested because he did not want to be charged for something he did not do.
Attorney Geoffrey Farquharson questioned Hall about a number of previous offences and incidents dating back from 2012 to 2015, and suggested the witness knew how the system worked and had planned to make a deal with police once he was arrested.
"At your record of the interview, you told police you would cooperate with them?" Mr Farquharson asked.
"I ain't getting charge for no murder, for something I ain't do," replied Hall. "If someone trying to pin something on you… you ain't gon tell the truth?"
Mr Farquharson suggested the statement Hall gave to police was not his own and that police had written it and told him to sign it. Hall denied the suggestion and stated police wrote down what he told them.

Mr Farquharson then questioned Hall about the working arrangement between him and his friend Alcime.
The lawyer asked: "You were fixing cars together, you were his helper?"
Hall agreed they were partners and worked together on cars at Alcime's house.
"You were thieving people's cars and chopping them up," suggested Mr Farquharson. The witness denied they were running a chop shop and said they repaired cars.
Mr Farquharson suggested when Alcime received a call from "Short Man" about another job for them to do, Virgil Hall knew it was not about fixing a car.
The witness explained Alcime visited him after work and told him "Short Man" had a job for them, which he thought was about fixing a car.
On their way to Devaughn Hall's house, he said Alcime told him it was about robbing some 'drug boy' of $2m.
The trial continues.