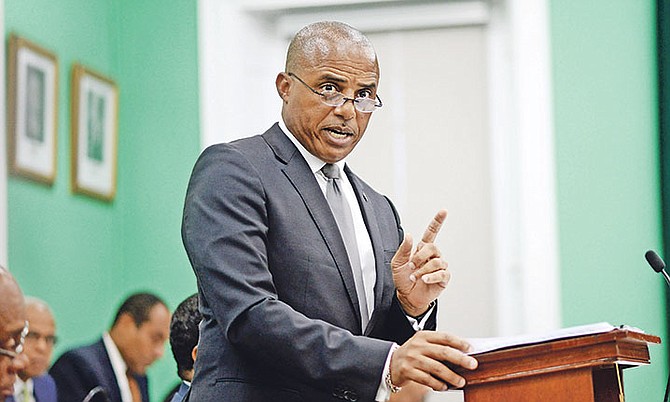 By MORGAN ADDERLEY 
THE Ministry of National Security is still unaware of how much it will cost to outfit Royal Bahamas Police Force officers with body cams, National Security Minister Marvin Dames said yesterday.
Still, he said he believes the use of body cams, once expanded throughout the force, will reduce the number of complaints of police brutality and improve professionalism in the force. 
Mr Dames spoke with The Tribune after delivering an address at a ceremony to welcome Royal Bahamas Defence Force (RBDF) vessel, HMBS Lawrence Major, back from its humanitarian voyage to Dominica. 
When asked about the estimated cost of the body cam pilot programme, Mr Dames said: "We don't know yet. We're just in the testing phase. So…we'll send it out as soon as we get a good feel for which cameras best [suit] our needs… the commissioner and his team will be testing any number of cameras, before we make a decision.
"Right now we're in the assessment phase where we're trying to get a feel for which cameras are best, [and determining] what are we looking for… we're looking in terms of storage, in terms of comfortability for the officer, you know, any number of things that we [are] looking for in selecting the best camera for us."
When asked if he expects these cameras will help reduce incidents of police brutality, Mr Dames was very optimistic, saying, "Certainly, they would certainly reduce the number of complaints against police officers, whether they are real or even, you know, complaints where people are taking it out on an officer."
He added: "What we want to do is…protect the citizens from officers who may be abusing their powers, but we also want to protect the officers from persons who may have something against an officer. So it goes both ways.
"[Secondly], what it also allows us to do, forces that have them employed now, is that it allows us to improve on our training capabilities. Because…you pick up things with cameras and say 'wow, why are we doing that?' We see a consistent pattern when officers are in the field. And so how can we improve on that?
"So (the body cams) will help the organisation internally too, to move towards a greater level of professionalism. And that's what we're seeking to do. We're seeking to build a professional force or a more professional force.
"And we're not only doing that with respect to the police force but also the defence force and the Corrections Department, and so there are a lot of things that we're doing now to improve the level of professionalism, to improve the quality of service that we're delivering to our community.
"So the big focus is on training, on looking at technology and equipment that will enhance the training component of what it is that we're doing. And also that will add to officer safety, and that will bring about a greater degree of professionalism throughout the organisation."
Under former Commissioner of Police Ellison Greenslade, 73 officers were discharged for misconduct. 
Thirteen people were dismissed from the RBPF in 2016 for misconduct and betrayal of the public trust. Public complaints against police officers last year included 101 complaints of assault, up from 86 in 2015. They also included 15 complaints of unethical behaviour, 12 of missing property, five of extortion, seven of unlawful arrest, four of threats of harm and five of causing harm. One hundred and one of the complaints resulted in complete investigations in some form, statistics released in January show.
Current Police Commissioner Anthony Ferguson announced the body cam initiative earlier this month.
Last week, Commissioner Ferguson said: "I can tell you that the officers are excited. I've spoken to any number of people in the community and they are excited to see the police advancing their level of technology. We in the police force, particularly the executives and all members, are excited because we believe this will help the police image-wise and boost public confidence with the police."
"When police interact with members of the public, they can be assured police will be behaving with the utmost level of professionalism and can be assured that police are truly our friends because they know when we speak we are speaking the facts and there can be no doubt about the actions.
"Once testing is done we will move to acquire this practice for all of our mobile units. As of this date, the same thing is going on in Grand Bahama and Abaco."