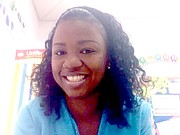 By NICO SCAVELLA
Tribune Staff Reporter
nscavella@tribunemedia.net
THE trial of two men and a teenager accused of murdering former Queen's College elementary teacher Joyelle McIntosh continued yesterday with video evidence of police interrogating two of the accused days after the incident occurred.
During yesterday's proceedings before Justice Bernard Turner, jurors saw three videos submitted by the Crown involving police interrogation of two of the accused, Armando Sergeant and Johnny Mackey, concerning their involvement in the November 11, 2015, crime.
In one video in particular, Sergeant was seen being taken on a ride in a police vehicle with three other officers on November 19, 2015, from the Wulff Road Police Station to Kemp Road and ultimately Parkgate Road, where the incident occurred.
Two medical officers stationed at the Bahamas Department of Correctional Services (BDSC) also took the witness stand and testified about examining the three accused individuals in the matter upon their respective admissions to prison between November 24 and 25 of 2015.
Yesterday's proceedings are the latest in the murder trial concerning the murder of the fourth grade teacher.
It is alleged the teenager, who was 17 at the time of the incident, along with Sergeant of Kemp Road and Mackey, aka, Eagle Eye of Bonaby Alley, attempted to rob McIntosh at gunpoint of her 2009 silver coloured Toyota Corolla worth $6,000.
It is alleged that during the failed carjacking, the victim was shot multiple times in her head and body. She later crashed into a wall at the intersection of Parkgate and Village Roads.
All three have denied the allegations.
Viola Barnett and Akeyra Saunders represent the Crown. Sonia Timothy represents the teenager, while David Cash represents Sergeant. Dorsey McPhee represents Mackey.
The trial continues.