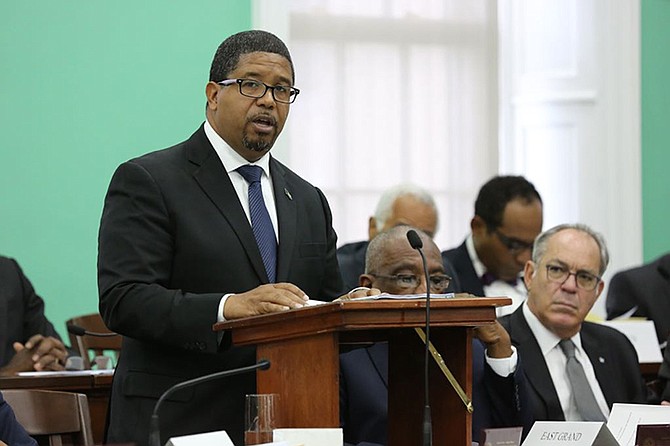 By KHRISNA RUSSELL
Deputy Chief Reporter
krussell@tribumedia.net
FINANCE Minister K Peter Turnquest yesterday accused the Progressive Liberal Party (PLP) of "dumbing down" debate on the "visionary" Commercial Enterprises Bill 2017, as he castigated the opposition for attempting to "stop" the Bahamas' progress.
Speaking in the House of Assembly yesterday as debate began on this legislation, the East Grand Bahama MP made a strong push for the bill telling Parliament it would facilitate ease of doing business, and more importantly make The Bahamas attractive to niche high value markets.
These markets outlined in the bill include mutual fund administration, wealth management, computer programming, nano technology, call centres and manufacturing or assembly of manufactures among other niche areas.
But before debate began in the morning session of Parliament, Official Opposition Leader Philip "Brave" Davis insisted there had not been sufficient public consultation or discussion among nongovernmental agencies (NGOs) on the bill, calling on the government to defer debate.
PLP Deputy Leader I Chester Cooper later backed Mr Davis. During his contribution, the Exuma and Ragged Island MP went on to maintain that the bill "rolled out the red carpet" for foreigners. He further criticised the government over its $250,000 threshold of investment.
In its current form, Mr Cooper said he could not support the bill. And when the House convened after the morning session, PLP South Andros MP Picewell Forbes said he would not support the proposed bill while PLP MP for Englerston Glenys Hanna Martin raised strong objections.
Mrs Hanna Martin said the legislation is institutionalising the "marginalisation of the Bahamian people" and is "gouging" the foundation on which the country was built.
"I want to encourage the side opposite, please stop dumbing down the debate," Mr Turnquest said. "Again the fears of Bahamians is not about positive immigration, it's about migration and we must not confuse the two because we do so to the detriment of country and development of our own country.
"We need economic growth. We've got to figure out how we are going to stimulate and cause that to happen and it is not going to happen by having regressive immigration policy. "We have to open up the economy. We have to invite people to participate. We have to encourage Bahamians to invest.
"I want to encourage the side opposite, that when you look at this, don't look at it from a narrow view of immigration because that's not what it's about. This is about changing the paradigm in this country. It is about giving us the opportunity to grow. It's about recognising the fact that we have a deficit of talent in this country."
Mr Turnquest also said: "Mr Speaker again what we are talking about here is niche opportunities that do not exist or are undisturbed and so as I listened to the member speak about the investment threshold being $250,000 and how that might be too low, I understand where he is coming from but here is the rationale.
"In most economies, small businesses drive the majority of economic activity. What we are trying to do is to encourage again these niche investors - Bahamians and foreigners to invest in the Bahamas even if it is a sole-proprietor.
"If you have somebody come to invest in say a software development company in the Bahamas he has no need to build a million-dollar building. He has no need to hire 1,500 people, but what he does have a need for is modest accommodation, house, apartment, rent whatever. He is going to participate in civic society. He is going to patronise restaurants and bars or whatever. He's going to buy a car. He's going to use services and the business itself is going to pay taxes so there is a lot of spin off for Bahamians."
For his part, Mr Cooper said he was also concerned the bill created too much bureaucracy - which does not encourage local businesses.
He said the bill was a hard sell to Bahamians because it appeared to make it easier for foreigners through the relaxation of the country's immigration policy.
The bill would liberalise the granting of work permits to an enterprise that wishes to establish itself in the Bahamas, and requires work permits for its management team and key personnel.
If passed into law as is, the legislation would enable a "specified commercial enterprise" to obtain an Investments Board certificate granting it a specific number of work permits for certain positions.
The certificate, which will initially be issued for one year and can be renewed, would allow key personnel to set up the company's physical operations in the Bahamas before they obtained a work permit.
Such a permit must be applied for within 30 days of their entry, and the bill mandates the director of immigration to make a decision on approval within 14 days of receiving the application. If the director does not respond within that time frame, the work permit will be "automatically deemed to have been granted."
Work permits issued under the bill's provisions will be for a three-year period, and are renewable for the same duration. They can only be revoked on grounds of "public safety, public morality or national security."