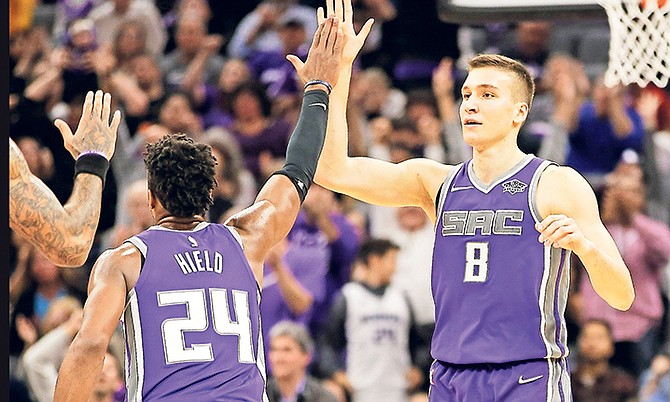 By RENALDO DORSETT
Tribune Sports Reporter
rdorsett@tribunemedia.net
AFTER suffering a sprained ankle last week that looked worse than it turned out to be, Buddy Hield returned to the court for the Sacramento Kings and his team also returned to the win column.
Hield finished with 10 points off the bench in the Kings' 113-102 win over the Los Angeles Lakers at the Golden 1 Center in Sacramento, California, on Wednesday night.
It was an efficient game for Hield who shot 4-7 from the field and made one of his three shot attempts from long range in just 15 minutes. That three gave the Kings a 91-73 lead at the 8:33 mark in the fourth quarter as the Kings pulled away for good.
"We played with a lot of energy, I think it was one of our most complete games from start to finish," Kings head coach Dave Joerger said. "Different guys had different moments where they shined. We withstood their runs, we got some loose balls and we kept them off the glass pretty effectively."
The Kings have been plagued by slow starts this season, but outscored the Lakers 31-19 in the first period.
"They should feel good and they should take that approach into this weekend. We had a good workout, we had a spirited walkthrough and we grabbed their attention a bit about picking up our pace, our tempo, getting up and down the floor and playing with more zip to us," Joerger said. "We've got to get going, play at a higher tempo for 48 minutes"
Hield was injured last Friday in the fourth quarter of the Kings' 86-82 win over the Portland Trailblazers at the Golden 1 Center. He left the game with eight points and a pair of three pointers in 17 minutes. Hield went on to miss the second game of a back-to-back against Portland and the following game against the Denver Nuggets.
Hield remains second on the Kings in scoring at 11.5 points per game and is the team leader in steals at 1.3 per game.
The second-year guard has been relatively free for much of his career thus far since his freshman year at Oklahoma. As a freshman, Hield suffered a broken bone in his foot in February and was expected to miss up to four to six weeks. He stepped awkwardly on a TCU defender's foot while chasing a loose ball and had to be helped toward the sidelines.
After the game it was discovered that he sustained a fractured fifth metatarsal in his right foot and underwent surgery. He missed just five games and returned on March 6 against West Virginia.
Since Kings head coach Dave Joerger moved Hield to the bench, his numbers improved across the board and averaged 12.5 points and 4.9 rebounds per game while shooting 48 per cent from the field and 56 per cent from three.
His bench production was highlighted by a season-high 21 points to lead the Kings to a 94-86 win over the Oklahoma City Thunder at the Golden 1 Center on November 7.
Vlade Divac, Kings general manager, announced that the team exercised its 2018-19 option on Hield earlier this month.