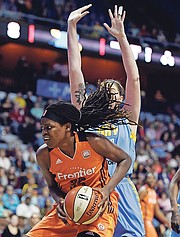 By RENALDO DORSETT
Tribune Sports Reporter
rdorsett@tribunemedia.net
JONQUEL Jones went head-to-head against her Connecticut Sun teammate Morgan Tuck in the Women's Chinese Basketball Association but came away with a lopsided win for her club.
Jones finished with 18 points and 19 rebounds and an 87-59 win for her Shanxi XR over Tuck's Shaanxi T.
Tuck also finished with a double double - 10 points and 10 rebounds.
Through three games, Jones is currently averaging 25.3 points and 17 rebounds per game in her debut season in China.
Led by Jones, Shanxi XR has been the top ranked scoring (84 points per game) and rebounding (40.4 rebounds per game) team in the league.
Her Flame got the season off to an impressive start with a 92-52 win over Heilongjiang in the season opener and have a 2-1 start to the season thus far. Jones is joined in China by Sun teammate Lynetta Kizer, who will be spending the offseason with Shandong Sports Lottery.
Both Jones and Tuck were selected in the 2016 WNBA Draft. Tuck, drafted No.3 overall by the Sun, has been hampered by knee injuries over the course of her first two seasons in the league, while Jones, drafted No.6 overall by the LA Sparks and traded to the Sun, has risen to All-Star stardom in the league.
The WCBA is the top-tier professional women's basketball league in China and is the women's counterpart to the Chinese Basketball Association.
The 2017-18 WCBA will include a 26-round regular season and playoffs, as well as All-Star weekend on January 20, 2018. The league expanded by two clubs this year to bring the total number of teams to 14. The top eight teams will advance to the playoffs.
Jones' last offseason propelled her into becoming the WNBA's Most Improved Player, an All-Star and an All-WNBA Second Team selection, leaving fans and pundits eager to see what this offseason will bring.
Jones was selected No. 5 overall by Woori Bank in the Korean Basketball League and led the team to a championship title. On the season she averaged 15.8 points, 14.3 rebounds and 2.8 blocks - all team leads - in 24 minutes per game for Woori Bank in 38 games. At the league's award ceremony, Jones earned the Foreign Most Valuable Player Award, Defensive Player of the Year award and was named "Best Five" in the league.
Her performance led WNBA general managers to vote Jones as the player most likely to have a breakout season in the WNBA.
Jones finished the year averaging 15.5 points and 11.9 rebounds per game - a dramatic increase from her rookie season when she averaged 6.8 points and 3.7 rebounds per game.
She also set a new WNBA single-season record with 403 rebounds for the season and added 20 double-doubles.