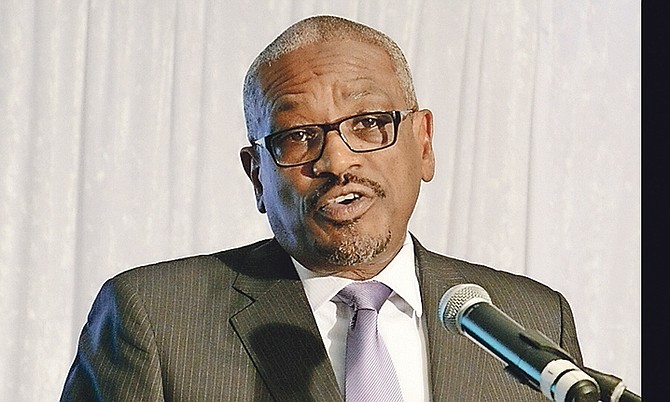 PRME Minister Dr Hubert Minnis is slated to make a national address for the Christmas holiday and another early in the New Year; however it's not clear when promised quarterly press conferences will be introduced.
Yesterday, Press Secretary Anthony Newbold said that aspect of press engagement – announced shortly after the general election – had not been fully worked through.
"It's unlikely that we will," Mr Newbold said when asked by The Tribune whether the initiative would be implemented before year-end.
"It probably won't start until early New Year shortly after the national addresses," he continued.
"At Christmas, and then one to start the New Year. We just started talking about it. I know one thing for sure there will be a national address in January and one just before Christmas. Exactly when we will do that (press conferences) I'm not sure, we haven't firmed that up yet."
In a later correspondence, Mr Newbold explained the scheduled press conferences were intended to "assure access to the prime minister."
"However, the press has been able to speak freely with the prime minister most times he has appeared in public," he said.
"But there is a commitment to get on a schedule next year."
In recent weeks, Dr Minnis has repeatedly blocked attempts by the press to question him on matters of national interest, although he briefly spoke to reporters yesterday and gave The Tribune an interview on the sidelines of the opening of the SLS hotel at Baha Mar on Friday night.
An article in The Nassau Guardian last week, reported Dr Minnis ran from a staff reporter seeking further information about his announcement on changes to citizenship laws.
The relationship between the Minnis administration and the press core was thrust into the spotlight at a recent banquet honouring Bahamian media professionals on Saturday.
Dr Minnis criticised the press for reporting "drama" rather than policy, for not comparing the Bahamas enough with other countries and for "blurring" the lines between reporting and editorial writing.
The Bahamas Press Club had honoured Dr Minnis with the Person of the Year Award.
More like this story