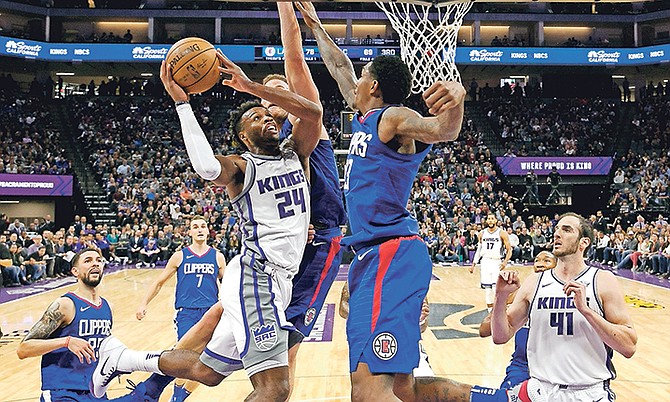 By RENALDO DORSETT
Tribune Sports Reporter
rdorsett@tribunemedia.net
In just his second game back on the court after missing time with an ankle injury, Buddy Hield posted his best numbers of the year so far and a season high in scoring.
Hield scored 27 points off the bench and made a career high seven three pointers but it was not enough as the Sacramento Kings lost 97-95 to the Los Angeles Clippers at the Golden 1 Center in Sacramento, California, on Saturday.
He made consecutive three pointers late in the fourth quarter to tie the game at 95 before Clippers forward Blake Griffin scored the go-ahead basket and regained the lead for LA.
The Kings had an opportunity to tie or take the lead with 3.2 seconds left to play, but Hield could only manage an awkward left handed runner from mid-range over the outstretched arm of DeAndre Jordan.
"I wish I could see what I could've done to get a better shot off, but it was a great defensive play," Hield said. "I couldn't get to my right hand and my shot, I feel like if I got to my right hand (Jordan) would've blocked it. I knew I had to get the shot up so I tried pushing my left hand but, like I said, those situations (I'm) learning, so now I know what to do in situations. Maybe (I've) got to do a crossover, step back, something to get the shot off, but I'll learn."
The Kings took a 61-47 lead into the half, but managed just 10 points in the third quarter and were outscored by 19 to surrender the advantage. "The first four minutes of the third quarter all we did was take jump shots," said Kings coach Dave Joerger. "… So, we thought we were just going to, you know, it's going to be easy, and you can run up and down and shoot jump shots, and that's the path of least resistance."
Hield's production off the bench has led to the Kings bench, outscoring opponents on a consistent basis and they outscored the Clippers 51-44. "Buddy Hield is a scorer," Clippers head coach Doc Rivers said. "We had trouble containing him. He does what he does."
After suffering a sprained ankle on November 17 that looked worse than it turned out to be, Hield returned to the court for the Kings after missing just two games. Hield missed two games and finished with 10 points off the bench in the Kings' 113-102 win over the Los Angeles Lakers at the Golden 1 Center on November 22. It was an efficient game for Hield who shot 4-7 from the field and made one of his three shot attempts from long range in just 15 minutes.
Hield remains second on the Kings in scoring at 12.4 points per game and is the team leader in steals at 1.2 per game. He is also shooting 43 per cent from the field and 44 per cent from three-point range.