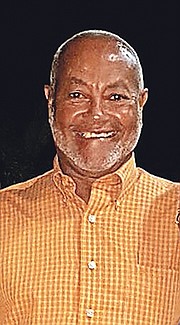 By NICO SCAVELLA
Tribune Staff Reporter
nscavella@tribunemedia.net
THE 21-year-old son of Leon Sweeting, who was found stabbed to death in his Ambergris Street home on Friday, is assisting in the investigation into his father's murder.
This was confirmed by Chief Superintendent of Police Solomon Cash, officer-in-charge of the Central Detective Unit.
Sweeting, 76, was found stabbed to death shortly after 9am on Friday by family members at his home off Faith Avenue South.
That evening, police press liaison officer Superintendent Shanta Knowles confirmed that a 21-year-old male suspect, a relative of the deceased, was helping police.
On Friday morning, officers received reports that a lifeless body was found in a home at Ambergris Street off Faith Avenue. Police and Emergency Medical Services were called and confirmed he was dead.
Supt Knowles said at the time that neighbours in the area noticed Sweeting was not sitting in his yard as he usually does. Concerned, they knocked at his door, and after not getting a response, notified family members who subsequently made the discovery.
Last week, Sweeting's son, Glen Sweeting, told reporters he was the one who made the initial discovery.
At the time, Glen Sweeting, who flew in from Miami as part of a surprise Thanksgiving visit for his father, said he visited the house Friday morning with plans to "just shoot the breeze" with his father, who wasn't able to attend the family's Thanksgiving dinner the night before.
He said when he arrived at his father's home and he looked through a window, he saw blood and immediately called the police. Glen Sweeting told reporters that he was "numb" at the thought of his father being "taken," as opposed to passing away "peacefully."
Other family members at the scene said they were all "shocked" at Sweeting's death. They said the 76-year-old was a "supportive" man who would help anyone in need, family and strangers alike.
However, Glen Sweeting, as well as the victim's niece Tracey Major-White, said the death was all the more shocking given that before his death, Sweeting, an early-riser by nature, declined an invitation to attend the family's surprise Thanksgiving dinner because it was too late.
"…He was like 'man it so late y'all bring my food tomorrow'," Mrs Major-White said last week. "Not knowing that he wasn't gone be here tomorrow."
Anyone with information is asked to call police at 919, 502-9991 or Crime Stoppers anonymously at 328-TIPS.