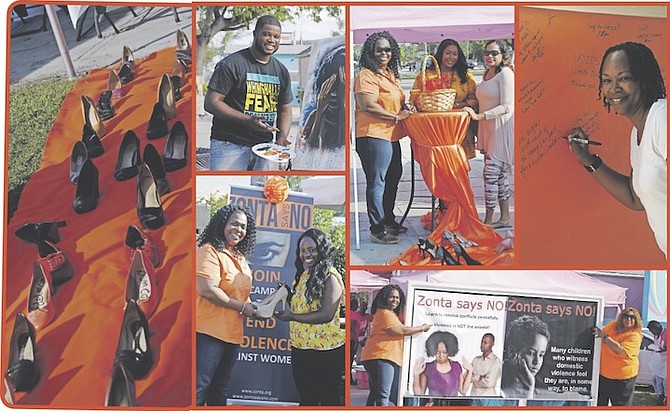 By FELICITY INGRAHAM
The Zonta Clubs of the Bahamas spent the weekend collecting new and gently used shoes for their "Walk in My Shoes" campaign.
The campaign was designed to sensitise the public to the plight of victims of violence, and each shoe donated was to represent a life lost to violence in the Bahamas. Zonta's advocacy is a part of the United Nationals global campaign: "16 Days of Activism against Gender-Based Violence".
The "Paint the Town Orange" event left hundreds of bows brightening areas around the capital as Zontians took the opportunity to talk to residents about the crime situation in the country and encourage peace and conflict resolution.
A town meeting will be held today today as "Zonta says No to Violence Against Women and Girls Worldwide" with this final event. Speakers will include Dr Robin Roberts, who will speak on "Time to Stop the Violence"; Donna Nicolls on "Healthy Relationships"; Tinagay Foster on "An Unpolished Diamond"; Pastor Paul Scavella on "Spiritual Healing in Relationships; and Elaine Sands on "Call the Police".
Gaynell Curry, director of Gender and Family Affairs in the Ministry of Social Services and Urban Development, will also bring remarks, along with a representative of the Pan American Health organisation. The town meeting will be held at the Jones Communications building on Thompson Boulevard at 6pm, and will also be broadcast live on JCN channel 14. The public is invited to be a part of the live television audience, and share their questions and comments with the panel. Zonta is also asking for Facebook users to visit their page and make comments or share photos as the country joins in their activism against violence.
The "16 Days of Activism against Gender-Based Violence" campaign began on November 25, the International Day for the Elimination of Violence against Women, and runs to December 10, Human Rights Day.
The campaign by the United Nations is a time to galvanise action to end violence against women and girls around the world. The international campaign originated from the first Women's Global Leadership Institute coordinated by the Centre for Women's Global Leadership in 1991.
This year, the UNiTE Campaign will mark the 16 days of activism under the overarching theme, "Leave No One Behind: End Violence against Women and Girls"-- reflecting the core principle of the transformative 2030 Agenda for Sustainable Development.
"Leave No One Behind: End Violence against Women and Girls" reinforces the UNiTE campaign's commitment to a world free from violence for all women and girls around the world, while reaching the most underserved and marginalised, including refugees, migrants, minorities, indigenous peoples, and populations affected by conflict and natural disasters, amongst others, first.
As in previous years, the colour orange will be a key theme unifying all activities, and buildings and landmarks will be lit and decorated in orange to bring global attention to the issue of violence against women and girls.