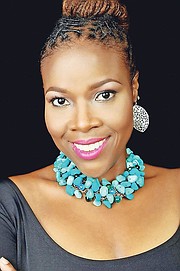 By ALESHA CADET
Tribune Features Reporter
acadet@tribunemedia.net
At a time when women are conquering the corporate the world, many are also leaving it to follow their dreams of business ownership.
Whether it's opening up a beauty salon, starting a pastry making company, a jewellery or clothing business, women are stepping to the forefront to put their talents on display, not just after hours or "on the side", but 24/7.
And with the inspiration and motivation from events like the Women's Entrepreneurship Day (WED) symposium, these women will continue to flourish.
On December 5, the symposium hosted by Bahamian WED ambassador Simmone L Bowe will take place at the Baha Mar Convention Centre, beginning 7 pm. It will cover topics such as "Working the side hustle", "Making the big leap: I quit", "Growing your business", "Doing business with big business", and "Do I want an investor?"
Social entrepreneur and humanitarian Wendy Diamond is the CEO and founder of WED - a privately owned philanthropic organisation with a mission to empower women and girls globally, and alleviate poverty worldwide. She is also the founder of Animal Fair Media Inc, a leading pet lifestyle media platform bridging celebrity and animal rescue. Wendy actively invests in social impact, disruptive technologies and women-led businesses.
The Women's Entrepreneurship Day, and new international digital campaign and portal #ChooseWomen, are grassroots movements that seek to empower, celebrate and support women in business worldwide.
For Simmone, a local motivational speaker and entrepreneur, it is a great pleasure to host the event in the Bahamas for a third time.
"One of the ways to advance the cause is to appoint country ambassadors to champion the message of celebrating and supporting women in business. I have served in this capacity for the last three years, and through my connection with the regional ambassador for the Caribbean, Cecile Watson, founder of Pitch and Choose based in Jamaica, I was invited to participate and represent the Bahamas," she told Tribune Woman.
"When women are elevated financially, their communities, states, and countries prosper, which generates a global blueprint for alleviating poverty. This year we are proud to have partnering with us is Cable Bahamas as a corporate sponsor."
This year's symposium is expected to feature a number of local entrepreneurs, both male and female, at various stages of their journey: part-time, full-time and growing their business to the next stage; whether opening a store front, exporting, hiring staff, or doing business with large companies.
Speakers will include: Aketa Smith, of Spa Smitten; Duquesa Dean, founder of the Transitions Mentoring Programme; Kentisha Ward, of Pop Stop Gourmet Popcicles; Cherrylee Pinder, CP training and consulting; Stanya Davis, of Eve's Journey; Gregory Collie II, of The Cookie Caterer; Kendall Butler, of Everything Epic Productions, and Sean Brennen, fund manager with Bahamas Entrepreneurial Venture Fund.
"This event is important because the female speakers are empowering. They provide information to help people learn how to do what they do better," said Simmone.
"They provide a network of support for businesses. People connect with each other and their customer base expands. Men also are welcome and benefit as some of the information relates to entrepreneurship in general. I would love to see us in future establish a directory of entrepreneurs, present entrepreneur awards in unique niche areas, and create a business incubator to support entrepreneurs in all stages of their growth."