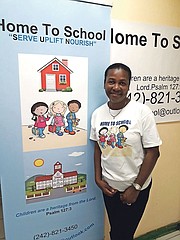 By JEFFARAH GIBSON
Tribune Features Writer
jgibson@tribunemedia.net
TEARFUL memories of the days when she along with her nine siblings had to go without breakfast before school was what led Bahamian hotelier Telsine Rolle to launch the "Home To School" programme.
It is a fairly new community service initiative designed to provide a healthy, well-balanced breakfast for children to reach their full potential in the learning environment.
The initiative began back in September at T A Thompson Jr High School, which Ms Rolle attended when it was C C Sweeting Jr High School in the late 1970s.
She was received with open arms by the school's principal as well as the guidance counsellor, who presented a cohort of 60 students who are currently on the school's welfare programme for participation in the new initiative.
"I came from a family of 11 and some days we did not have breakfast nor lunch," said Ms Rolle.
To ensure that other Bahamian children do not experience the same thing she once did, Ms Rolle started the initiative she believes will balloon into something much bigger.
"I've once walk this same road and I can't sit by and let our children not come to school because there is no food," she told Tribune Woman.
Apart from providing breakfast for students every morning, the initiative seeks to provide clothes and basic hygiene products to the students, create an education tracking system for students, partner with community leaders in creating an environment for social development and positive assimilation in Bahamian society.
"Thus far we have given uniforms, care packages, shoes, books, school bags, and breakfast each morning," she said.
Ms Rolle said the "Home To School" programme is one that she is committed to and hopes to see it continue with the help of those willing.
"Children are now coming to school on time, they look forward to seeing us, they share their grades and ideas," she said. "We have received great responses. The first question is always how we came up with the idea and if I will go to other schools."
As the initiative expands, Ms Rolle said she wants to organise a school bus so that the children get to school on time. She also wants to establish a book club and have students on the honour roll receive prizes.
Her team includes her husband James Rolle, Dennis Skinner, Dr Geannine Moss and Lyndale Pinder-Lewis, Gia Saunders, Sophia Edgecombe, and many other volunteers who are supporting her in this endeavour.
Ms Rolle has also invited C C Sweeting alumni to give back to society through helping children in various schools across the island.