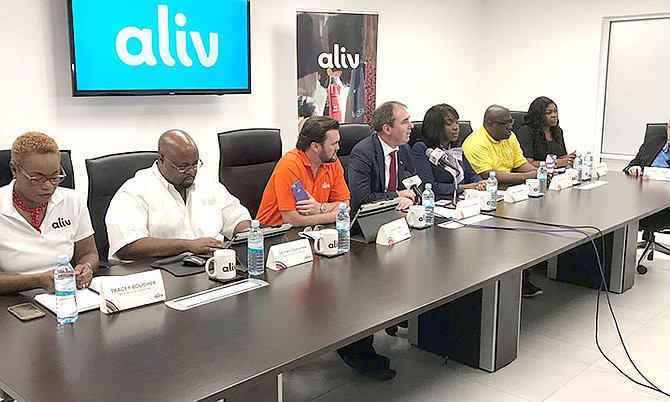 ALIV has announced that it will start selling the iPhone X in time for the Christmas holidays.
According to Chief ALIV Officer Damian Blackburn, the smartphone will be available from December 15, although customers can pre-order it now at www.bealiv.com.
Speaking at ALIV headquarters on Monday, Mr Blackburn also announced a strategic partnership with Apple, which he says will allow ALIV customers to stay on the cutting edge of technology, especially when it relates to the latest in iPhone products.
"Our goal at ALIV is to always provide our customers with the latest smartphones and technology, and that is what we are doing here today.
"We know this is a busy retail season and we also know that these phones are in high demand all over the world, and the Bahamas won't be left out. We want everyone to be on the cutting edge. Our goal is to always meet and surpass expectations, and we believe this partnership with Apple will allow us to do just that."
Chief Aliv Solutions Architect Dwayne Davis explained some of the iPhone X's key features:
"What we're doing now is running pure network tests.
"What I like about the phone was that over the weekend as we were preparing it after Apple cleared it, in setting it up all I had to do was take any iPhone from 6 to 7, place it close to it and it automatically transferred everything. The phone was set up in less than 15 minutes. We also talked about the facial recognition, if I was to look at the phone and swipe up it opens automatically, the phone is faster than the traditional iPhone, it has an all glass casing and it uses a standing charger.
The technology in it is overall better and as you can see, it's already Aliv."
Aliv launched the iPhone8 and iPhone8+ in all of its stores on Black Friday.
More like this story