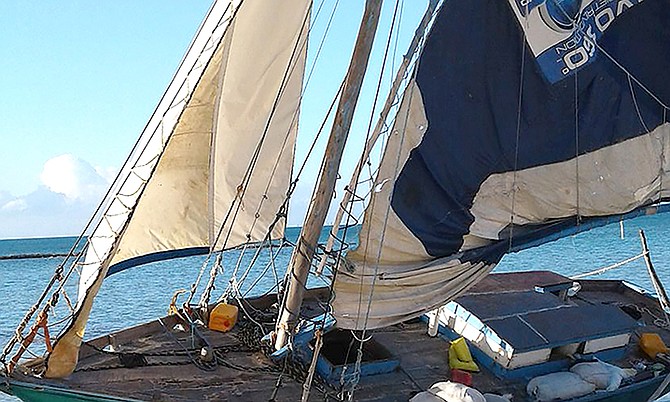 By SANCHESKA DORSETT
Tribune Staff Reporter
sdorsett@tribunemedia.net
MORE than 100 illegal Haitian immigrants have been deported in the weeks since a large empty sloop was discovered on the shoreline of Adelaide Beach, however immigration officers say none of the captured migrants is suspected to have been on board, according to Kirklyn Neely, head of the Immigration Department's Enforcement Unit.
In an interview with The Tribune, Mr Neely said no one is "admitting to being on the vessel" but immigration officers' efforts have still paid off. He said an additional 150 illegal Haitians, who were caught in about two weeks, are at the Detention Centre waiting to be deported.
"We are still searching, we are still looking. So far, we have sent 114 Haitians back home on a Bahamasair flight and 18 on a smaller plane. These are the persons who were caught since our search began for the persons on board the vessel," he said.
"We have an additional 150 Haitians at the Detention Centre waiting to be deported. It costs us about $45,000 every time one of those Bahamasair flights are chartered. We caught a lot of illegals but no one is admitting to being on that boat."
Authorities believe the immigrants who landed in mid-November had help from people already on New Providence and warned anyone who was found hiding them would be jailed, fined or both.
Mr Neely estimated between 150 to 250 undocumented migrants were on board the sloop.
The hunt for the migrants began three Sundays ago when the RBDF said it was investigating reports of a wooden Haitian sloop landing in the southwest area of New Providence.
The ship came ashore sometime on the night of November 11 or the morning of November 12, the RBDF said, adding that the number of suspected migrants on board were unknown.
The intense immigration sweeps since the landing have angered local activist and attorney Fred Smith, QC.
Mr Smith, president of Rights Bahamas (RB), has written to members of the government expressing displeasure about the "complete and intentional" breakdown of the rule of law regarding the actions of immigration officials and the Royal Bahamas Defence Force.